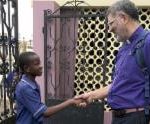 If the old Diocesan Ministry Fair and the annual Global Mission Conference had a baby, it would be the Go Summit: Local and Global Mission in the Diocese of Atlanta. This conference will be held February 10 at the Cathedral of St. Philip.
Collaborate with Bishop Robert C. Wright,  Toxic Charity author Robert Lupton, and those in our diocese working on innovations in both local and global ministries. Please encourage those in your ministry with big ideas, dreams, frustrations, and questions to register and attend.
Click here to learn more.


Share this on your social network: