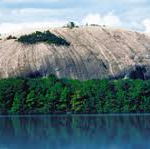 Stone Mountain Park
October 19th, 20th & 21st
Fall 2018 Weekend Parish Retreat
Greetings!
Please be aware that on the weekend of October 19st through the 21st we will be celebrating a weekend of
"Fun, Food and Fellowship" at Stone Mountain Park. This parish-wide event is for the entire family. We are planning a weekend full of activities to allow for our church family to build community, have fun and grow spiritually. Activities are in the works that include parishioners of all ages and all our ministries at St. Matthew's.
Please plan to attend the activities for the weekend. We have secured the "J" camping trail at Stone Mountain. for this event. All parishioners that want to camp will be able to do it. The park also has two hotels on-site and for those who prefer to go in for the day, they will be able to do that as well. We will have the Holy Eucharist at the park on Sunday October 21st.
Details of cost and activities schedule will be provided soon. Stay tuned!!!
Peace be with you!
Your Fellowship Committee


Share this on your social network: