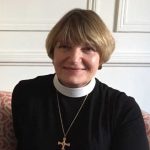 I don't know about you, but I found this past week a difficult one to navigate. Saturday, Gwinnett police officer Antwan Toney was shot and killed while approaching a car parked near Shiloh Middle School. On Monday, the alleged shooter, Tafahree Maynard, was shot and killed by a Gwinnett officer as they sought to take him into custody. That same Monday, an eighth grade student at Trickum Middle School in Lilburn stabbed his language arts teacher in the chest with an 8 inch butcher knife he brought to school.
As a pastor, I mourn both lives lost, and I pray for the teacher who was wounded and for the student who would commit this act. And I pray for those who are impacted by these acts of violence – a ripple that goes far beyond these four people.
I have heard from people who are angry and afraid. I deeply wish I could offer wisdom, but that would be trying to explain the illogical with logic. So I offer compassion, and prayers, and a listening ear to anyone who might need to talk, whether about these events or anything else that is weighing you down. And please know that I am not the only one available if you need to talk. Susan Jung and our Stephen's ministers would like to help, and you can ask for prayers from our Daughters of the King and St. Luke's chapters. Father Doug is helping me right now with parish pastoral care when he is in town, and he's a good listener.
I hope you realize that if you are struggling, you do not need to walk alone. Call me at St. Matthew's – I now have an extension (109) and voicemail, so if you don't reach me, you can leave a message. Or you can call my cell (770-820-9448). This is what being in community is all about. And I give thanks to God each day that he led me to St. Matthew's.
In Peace, Liz+


Share this on your social network: