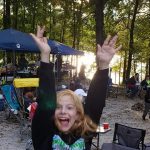 Dear Sisters and Brothers from Saint Matthew's!
A few years ago, the parish provided feedback that an event like a weekend retreat was something the majority will welcome.  After more than a year of planning, this past weekend that retreat was a reality;  an effort that brought so many parishioners together in love, harmony, worship and fellowship to the glory of God.
The setting was the magnificent Stone Mountain Park campgrounds. The weekend activities provided opportunities to all present to get to know each other and work, have fun and worship together.  It was a weekend where young and old mingled and learned from each other. The campfire provided a magical moment for all to keep warm and connect through stories and music.
The fellowship committee would like to express the utmost gratitude to all who attended and others that works so hard to make this retreat happen. Special thanks to Terri Ingalls, our professional story teller, that allowed her craft to teach us how, and the importance of, telling our stories;  to Mindy Barringer for the gift of live music for the campfire and the worship service; to the parenting group that handled most of the meals; and to the countless volunteers that ensured this successful event.
Thank you and may the peace of the Lord be always with you!
Oscar


Share this on your social network: