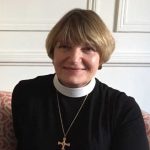 As much as we stress the spiritual discipline of making a financial commitment to the church, there are practical aspects as well.
In 2018, the vestry approved an operating budget of $567,000. A little over 50% of this amount goes towards staff salaries and benefits: pension, medical and disability insurance, travel, continuing education and social security. The cost to maintain and repair the physical plant, categorized as Buildings and Grounds, is 20% of the budget. A little over 9%, or $53,600 goes back to the diocese to help fund the cost of their operations. The cost to run the office, including office machines, computers, phone, internet and equipment replacements, requires 8% of the budget, while ministries uses 7%. Outreach is allocated 3% of the budget.
The vestry and the finance committee work hard to be good stewards of the monies donated to the church. Ideally, an increase in donations allows us to increase funds for Outreach as well as accrue funds for Buildings and Grounds to cover unexpected repairs, and expected replacement of high-priced items like air conditioners and roofs.
As you pray and discern what your financial commitment to St. Matthew's will be, I hope learning what it takes to operate the church will be helpful to you. If you have questions about any of this, please contact our Treasurer, Chuck Marsh, the chair of our Finance Committee Mark DiGiovanni, or Bret Hurst, vestry member and liaison to the Finance Committee.
In Peace,
Mother Liz+


Share this on your social network: