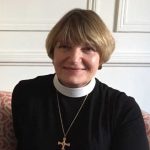 As some of you are aware, I took quite a tumble on Wednesday and ended up in the Emergency Room at Eastside Hospital. I was having lunch with Lynne Kiker when my foot hit a chair or table leg on the way back to my table and I fell, hitting my head on one of the wooden tables and landing hard on my left shoulder. Two men whom I did not know helped me to my feet and the manager of the Panera brought me an ice bag for my throbbing head. It only took about three minutes to realize that the size of the lump on my head suggested that I get it checked. And I needed something for the headache!
Lynne drove me to the ER and stayed with me and she was joined by Susan Carson, who later drove me home in my own car and arranged for her daughter-in-law to help coordinate the collection of cars. Everything checked out as okay, and they gave me a script for headache medicine, which Susan was kind enough to pick up from the pharmacy. John Eberhart stopped by to see how I was doing and prepared a snack along with a giant glass of ginger ale.
Samantha Renfro, my senior warden, suggested that I take some time to recover; Vicki Conway brought me soup and bread from Panera the next day, and I have heard from many of you wanting to know what you can do to help me mend. I am much better, but at the same time, I am very glad that Mother Pat Miller has agreed to take the services this Sunday.
Since I have been doing little besides sleeping and reading since the mishap on Wednesday, there has been time for reflection. I realized that what I experienced this week is the action that comes with Advent. We think of Advent as a quiet time, and it is. But it is also a time of becoming more and more aware of the gift given by God in the coming of Christ. What I learned this week is that Advent is also about recognizing Christ when he comes through the love of others: through Lynne, and Susan and Anne and Vicki and Mother Pat, nurse Renee and the staff at Eastside, Charmaine, and John and Diane and Samantha and Deborah and Mitch, those two men whose names I will never know, Marjory the manager at Panera and all of you who have offered prayers, cards, text messages and warm thoughts for my recovery. Jesus comes to us constantly through the love of others, and that is especially true in this community of Christ we call St. Matthew's.
This month, four years ago, I started to serve as your priest. It has been an amazing four years and you have taught me much and given me even more. As I reflect on the journey that brought me here, and the love and care you have shown these past four years, I am grateful to God for revealing a side of Advent I had not thought about before – how Christ comes through the loving action of others. May this Advent be full of God's profound Peace, and may Christmas fill you with God's profound joy. Liz+


Share this on your social network: