St. Matthew's Annual Parish Meeting
9:00 a.m.: Coffee & donuts & Sign In  
9:30 a.m.: Annual Meeting:
Election of four vestry members
Click here for candidate information
Parish business
Forum discussions
followed by one combined Service. 
12:30 p.m (time approx.): Annual Brotherhood Fish Fry!
CANDIDATES FOR VESTRY 2019: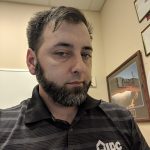 Elliot Griffiths
Elliot was "brought" (he didn't have a choice at the time) to St. Matthew's in the mid-late 80's by his father Tom Griffiths.  We quickly found this to be our church home and were very active until the early-mid 2000's.  He now attends with his own family: Jenny (wife), Ian (son age 11), and Ethan (son age 8), can be found at church most Sundays.
Elliot works as a Supervisor to the emergency services division of a restoration company which is why he always has one eye on the "bat phone" (yes even in church… sorry, Mtr Liz).  He went to college for music and spent some time touring around the southeast in his younger(dumber) years.
He was heavily involved with the youth and the New Beginnings movement as a participant at weekend number….. drum roll………….1.  He served on team and didn't miss a single New Beginnings weekend for nearly 15 years.  As a young adult he led music on the weekend and in general, helped set the stage for how the weekend currently stands…..which is awesome 😂….. Recently, since his return, he is more involved with the children's ministry and education (having children in the program and also teaching J2A).
Elliot's vision for St. Matthews is steady, smart growth.  To continue the trend of the Episcopal Church in its methodology of accepting all no matter what, under GOD. We all have something to give to the church just like we all have something we can take away from the church in our own individual lives. He would like to also see further development within the youth programs.  As a product of the church, he always had the feeling that he was really a part of something special.  While he does not spend as much time in the youth today as he once did, he would like to become familiar enough to ensure that the feeling is still thriving.  Our youth make up the future of our church (and world).  Molding these lives with productivity, GOD and love are absolutely paramount in these times.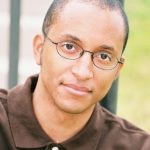 Bernard McGhee
Bernard was raised Roman Catholic but became an Episcopalian as an adult. He started going to St. Matthew's about two years ago after moving to Gwinnett County from Atlanta, where he and his family went to St. Luke's.
He grew up in the New Orleans area and majored in Mass Communication at Xavier University of Louisiana. After graduating from college, he started working for The Associated Press, where he spent time at AP bureaus in Seattle, Iowa and South Dakota, before coming to Atlanta in 2004. He currently works as an editor on the news agency's South regional desk in downtown Atlanta.
Bernard is married to Elizabeth, who also attends St. Matthew's, and they have a 7-year-old son named Maxwell. When not working, Bernard enjoys reading, writing fiction, listening to music and watching movies.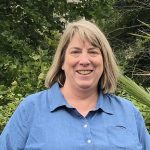 Becky Olbon
Becky was born in Boaz, Alabama but grew up in Bowling Green, Kentucky. She has been married to Clay Olbon for 27 years and they have two adult children, Tara and Nate. Becky was baptized and confirmed at the Cathedral of St Phillips in 2002.
At St. Matthew's, Becky is currently a member of the Outreach and Finance committees and serves as the 1C1P liaison with the Snellville PD. She also serves as a greeter and as a member of the Preschool executive board.
In the past she has served on the vestry as the Building and Grounds liaison and as the Youth liaison as well as Junior Warden,
Becky's vision for St. Matthew's is one in which we continue to grow our Inreach and Outreach ministries so that we are serving God and our community to the best of our abilities.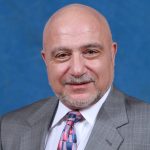 Sam Rotella
My choice to become a member of the Episcopal Church was an easy decision my wife Priscilla you either join or there's no us. Both were 2 of my best life decisions.
My now 47 year career spans leadership, sales, business development, facilitation and working with clients to achieve their vision. As a business we look at our purpose is to" give back the gifts of our skills and learning with passion and commitment to make a difference for our clients"
At St. Matt's I have chaired long range planning for 2 1/2 years, worked on a series of projects for Mother Liz and the Vestry as well as currently being involved in Christian formation.
It is not my job to determine the vision of St. Matt's but rather to facilitate the achievement of an aligned parish vision.


Share this on your social network: