Global Mission has been an important aspect of St. Matthew's focus almost from the beginning. Gini and Reid Peterson have headed up several trips both in the states and to other countries, and their work in the mission field began long before they came to St. Matthew's. We asked Gini about her heart for mission work. You'll see some other familiar faces in the photos here. It's the People!
by Gini Peterson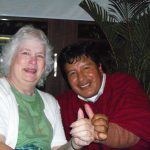 In today's world many people are tracing their family roots. I decided to go a different route and look at my mission journey- from its early beginnings to the present.
Now, don't panic! I'll hit the high spots. If you want to know more, please ask me.
My earliest memory of mission work is hearing the story of my pastor and his wife when I was a preschooler. They had fled Armenia when the Turkish government took over and with the help of Christians had come to the United States for refuge.
In elementary school at church we were encouraged to keep a mite box during Lent combining our sacrifice- usually giving up candy- with coins which were sent to support the Church School Missionary Offering which was used to fund Episcopal Missionaries in the field. Mite boxes were collected on Easter with the front of the cross being flowered and the back being filled with our mite boxes. Just think- resurrection and mission celebrated together!
Many opportunities to serve have been available to me over the years, but the bottom line is this:
Our church is the Domestic and Foreign Missionary Society of the Protestant Episcopal Church in the United States of America and elsewhere. As members we are all missionaries and are called to mission both in our country and in other global areas. On pages 854- 855 of The Book of Common Prayer the Catechism describes our role in the church's mission. "The mission of the Church is to restore all people to unity with God and each other in Christ."
Jesus gave us the Great Commission- Matthew 28:19-20- "Go therefore and make disciples of all nations, baptizing them in the name of the Father, and of the Son and of the Holy Spirit, teaching them to observe all that I have commanded you; and lo, I am with you always, to the close of the age." RSV
So, I've shared this in order to tell you that some of the greatest joys of my life have been when I have been blessed to serve God's children- near and far- in Mississippi after Katrina, in Cuba, Ecuador, the Philippines, and in every province of the Episcopal Church and many provinces of the Anglican Communion in places where I never imagined that I would be called to go.
It is truly a gift to share Eucharist, sing, dance and work with God's children whether in Snellville or far away parts of God's kingdom in other countries.
To God be the glory!


Share this on your social network: