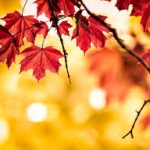 Finally! Fall is here. Last week's car show was a great success; the fall weather arrived this week, and rain over the past few days has refreshed the area. My favorite liturgical season is Advent, but my favorite of the four seasons is fall. I love the crisp air, the smell of woodsmoke and the changing color of the trees.
I confess that I also look forward to our time of stewardship celebration. That may seem an odd term, "stewardship celebration", but that's the way I think of it. If you read Terri Hurst's stewardship letter elsewhere in this e-letter, then you know that all the work we do as a community is part of our promise of stewardship – to take care of one another and of the many gifts and blessings which God has given us. This year's theme, "Shining Our Light", gives me context in which to do a reflection on where I am on my Christian journey. How have I allowed God's light to shine through me? How have I offered my time, skills and financial resources to share God's light both in the parish and in the greater community? I love stewardship because it allows me to be intentional as I realize that all that I have and all I can offer are gifts from God – I am only returning to God that which belongs to him already. If I am totally honest with myself, I must admit that on my own, I am not much, but as an instrument of God's light and love, I can make a difference.
We have a motto at St. Matthew's: "It's the People". Every month, when I meet with people new to St. Matthew's, what they always share with me is the warmth they've felt from this community. I believe God has given us special gifts of hospitality and welcome, however, I believe that God does not call us to rest in this, but to continue to move forward. To do the work God has called us to do takes financial resources and the commitment of all of us.
So yes, I love our time of stewardship; I love this time of reflection on where we've been and where God is calling us to go. I will use these next four weeks to thank God for all the ways God has blessed me, and I will prayerfully ask God what I can offer in return. I hope you will join me this season in celebrating stewardship: by giving God thanks for his light that you have received from others; by giving him thanks for his light in you that you in turn have shared, and by making a financial commitment to God and St. Matthew's out of the blessings you have received.
Happy Fall!!  Liz+


Share this on your social network: