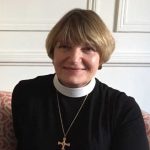 As we move towards Memorial Day and into June, we see more and more businesses and offices opening around the state and around the country. I am sure that many of you are like me – as much as I love attending church service in my PJs with a cup of coffee next to me, I miss the St. Matthew's community and I miss worship in the sanctuary.
Every other Wednesday the clergy of the diocese have a Zoom conference call with the bishop, and the question of when we will reopen always comes up. The bishop's latest answer is "not yet". He bases his decision on advice of medical and scientific experts both here in Atlanta, as well as representatives from Episcopal Relief and Development. While it is difficult to wait, I know his decisions are based on maintaining the safety and well-being of all of us.
However, I am very happy to report we have received permission to return to the sanctuary to either livestream or record services. At St. Matthew's, we do not have the ability to live-stream from the church sanctuary, but we will start recording the main part of the service from the sanctuary, beginning with our service on Pentecost on May 31. And at some point, we will receive the clearance to move back into the church. It will not be a return to church as we knew it in February, but will happen in phases, much as opening the country has been done in phases.
What that means is that when we are able to hold worship in the church, it will come with restrictions, much as there are restrictions for other businesses that have opened. And whatever we are able to do, we will want to do it as safely as possible for all concerned.
With that in mind, I am forming an Advisory Committee, whose work will be to advise the clergy, vestry and various church and preschool committees of best practices regarding safe use of the space and precautions we must take before, during and after worship, classes or meetings. The development of this committee is still in process, but as soon as the committee is complete, I will send more information on this out to the parish using the weekly Messenger.
Beloved I have felt your prayers during this challenging time, and I am sure Father Tommy, Charmaine, Kyle and Susan feel the same way. We are all blessed by your phone calls, emails, text messages and chats on Facebook. As I mentioned in another announcement, Father Tommy and I are humbled by the success of daily worship – the numbers of those watching live have not diminished over the past ten weeks, and the numbers of those who have watched later have grown.
Father Tommy and I are both available to talk with you anytime. Please do not think we are too busy! Walking this part of the journey with you is what our ministry is all about.
God's Peace, Liz+


Share this on your social network: