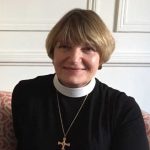 May 29, 2020
5,940,560; 362,859
1,768,461; 103,330
The numbers are staggering and almost beyond belief:  as I write this, at 9:30 p.m. on a Thursday night, those numbers represent the number of cases of COVID-19 and the number of deaths.  The top set of numbers is worldwide; the figures below are for the United States.  By the time you read this, all those numbers will have changed.
In the midst of fighting this pandemic with all the science, medicine, creativity and resourcefulness available to us, it is well if we stop for a minute (or several) and acknowledge this profound loss.  It is time to recognize those who have died as someone's sister, brother, mother, grandmother, aunt, godmother, uncle, father.  These are people who had family, and people who loved them; they had lives and interests; they went to the theater and played soccer; they lived.
This past Sunday, the New York Times published the names and a brief description of 1,000 of the 100,000 who have died in the US (since the Times went to press, that number has increased by close to 3,500).  It was sobering to see the entire front page taken up with names, in very tiny print.  In addition to the front page, the newspaper needed two more pages to print the names.
And combined with the huge numbers is the inability to mourn them properly.  Many died separated from loved ones.  There was no opportunity to say 'good-bye'; no opportunity for a last kiss, a last hug.  And proper funerals have been unable to take place.  One of the biggest outbreaks in Georgia was sourced back to two funerals that took place in Albany.  So, burials take place with mourners watching from a distance in their cars.
For this reason, Presiding Bishop Michael Curry has called on Episcopal Churches to join the National Council of Churches in a National Day of Mourning, set for Monday, June 1st.  We will be offering a morning and an evening service, at the usual times of 8:00 a.m. and 6:00 p.m.  These services will allow us to honor those who have died, and perhaps reflect on the value of this time as being time in the wilderness.  Please join me on Monday morning or evening, as we remember and pray for those who have died.  As always, these services will be recorded for those who wish to watch them later.
Peace,
Mother Liz+


Share this on your social network: