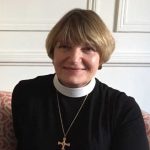 Musings by Mother Liz
Last Sunday, I made the statement that, based upon the baptismal vows we reaffirm several times each year, along with the example Jesus sets in reaching out to all people, racism is incompatible with Christianity. I also suggested that racism is a topic that we, as a church community, need to be talking about at St. Matthew's.
Racism is not unique to the United States, but it has been a pervasive force in America since this country was founded. More than 150 years after the 13th Amendment abolished slavery in the United States, most U.S. adults say the legacy of slavery continues to have an impact on the position of black people in American society today. More than four-in-ten say the country hasn't made enough progress toward racial equality, and there is some skepticism, particularly among blacks, that black people will ever have equal rights with whites, according to a new Pew Research Center survey .
And in a short essay published earlier this week, Smithsonian Secretary Lonnie G. Bunch wrote that the recent killing in Minnesota of George Floyd has forced the country to "confront the reality that, despite gains made in the past 50 years, we are still a nation riven by inequality and racial division ."
Racism is not an event or series of events in the past; it is a practice that continues. And there is no room for it in the church.
I would imagine that, if you are like me, you would probably say that there is no racism at St. Matthew's. However, if you are like me, then you are likely Caucasian, middle-class, female (or male), who has never experienced racism directed at yourself. At least that's true for me. Unfortunately, if we were to ask our brothers and sisters who are people of color if they have experienced racism at St. Matthew's, there's a good chance you would get a different answer.
So, this fall, we will discuss the topic of racism and what we can do to eliminate it from St. Matthew's. I am working with Father Tommy and the Christian Formation Board to develop a program which will include guest speakers, books, conversation, exercises (the mental kind) and even the possibility of movies!
Unless it has been derailed by corona virus, St. Matthew's will host a class on Anti-Racism offered by the Diocese of Atlanta in October. Anti-racism training is a diocesan requirement for vestry members, clergy and chairs of church committees. In the meantime, there's a couple of books that have been recommended to me that you might want to check out:
1. Just Mercy (I'm thinking the book, but the movie is also very powerful)
2. White Fragility
3. The Color of Compromise
There are also websites – check out the Smithsonian, which provides a lot of information (https://www.smithsonianmag.com/history/158-resources-understanding-systemic-racism-america-180975029/) and even has a link to another website called, "Talking About Race". (https://nmaahc.si.edu/learn/talking-about-race).
I encourage you to join the conversation. All of us, and the community of St. Matthew's, will be better for it!
Liz+
J. M. Horowitz, A. Brown and K. Cox, "Racism in America 2019, Pew Research Center, as found at https://www.pewsocialtrends.org/2019/04/09/race-in-america-2019/, accessed 6-11-20
https://www.smithsonianmag.com/history/158-resources-understanding-systemic-racism-america-180975029/, accessed 6-11-20


Share this on your social network: