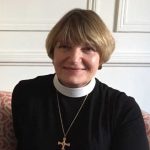 One of the key lessons from both the Gospel and the Old Testament readings last Sunday was the idea of fostering Holy Trust.  Elijah was looking to God to save him from what he thought was certain death at the hands of Jezebel.  Elijah believed that all the other prophets of Israel had been slain and that there was no one left to acknowledge God as Supreme other than he.  Peter challenged Jesus to prove him self and Jesus invited Peter to get out of the boat and walk to him on the water.  And it worked, until Peter took his eyes off Jesus.
As a community of Christ, we find ourselves in a time of Holy Trust.  We are five months in to this pandemic, and the trust we had five months ago that God was in control of what is happening in the world – well, that trust may not feel as strong today as it was in March.  I don't know about you, but I must be careful here, because my trust in God gets tangled up with what I think God should be doing.  In other words, I may find myself trusting God if things move in a direction of which I approve.  If things don't seem to be moving at all, or they are moving in a direction which I don't agree with, then my trust in God – well, safe to say it takes a beating.  And sadly, that's not really trusting God – rather, it's asking God to trust ME – to bring about that which I think is right.
I know that we are not all in agreement about whether we should be able to come together in the sanctuary to worship.  However, this is the bishop's call, and I believe he is going by the counsel of health experts in making his decisions.  Last week, the bishops of the Episcopal Church had a Zoom meeting with Dr. Anthony Fauci.  From Bishop Rob's report, Dr. Fauci commended the Episcopal Church for its wisdom in NOT returning at this time to in person worship.
So I am going to humbly ask you to hang in there, and hold tightly to Holy Trust – trust that we WILL get through this and that, in the interim, we will use the gifts of social media to stay connected.  In Peace, Liz+


Share this on your social network: