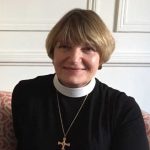 Greetings in the name of our Lord Jesus Christ!
We passed a milestone of a different sort this past week – September 15 marked six months since we closed the building to sanctuary worship. Less than 24 hours after the vestry voted to close the church on March 14, Father Tommy, along with Amanda Livermont, Steve McFarland, Karen Anderson and Becky Olbon, created on-line worship in the Coil chapel to make sure we did not miss a Sunday service!
Back in those days, we talked about the celebration we would have back in the sanctuary at Easter. It hasn't worked out that way, but thanks be to God and a lot of effort on the part of clergy, staff and parishioners, we have not missed a Sunday service and we added daily services on Facebook with the express purpose of affirming that coming together in community to worship God was STILL the most important thing we could do as Christians – in the face of pandemic, economic uncertainty, protests and hurricanes, we continue to share our faith and love for one another by showing up several times a week to praise God and pray for each other and the world.
On September 8, Bishop Wright let the clergy know that we could begin worshiping outdoors on campus, with the maximum number of persons capped at 50, for a service no longer than one hour, and maintaining social distancing and the wearing of masks. Several teams have been working on the required reopening plan for both outdoor and future indoor worship and these plans will be complete by the end of this month, with the required paperwork sent in to the diocese to allow us outdoor worship under the Pavilion in October. We will use Realm to register for ALL activities on campus, including these on-campus services, to comply with contact tracing requirements. For this reason it is important that all adult family members be signed into Realm, with updated contact information available for each adult.
There will be more information coming out soon with details about how to register for attending the service as well as information about the service for those continuing to attend online. St. Matthew's remains committed to offering several options for parishioners (and visitors!) to remain connected with our church community. However, I wanted to take a moment to pause, and reflect back on the past six months, and to share how grateful I am to be part of this community and how amazing it is that so many people have stepped up to help make on-line worship happen – from technical management to leading worship. Beloved, we are blessed to have the church family we do, and so I thank each and every one of you – for your leadership, for your support and for your constant prayers. I pray that we will continue to move towards more people on campus and to returning to the sanctuary for our services. I also recognize that maintaining a presence on-line for those who cannot physically attend the service is critically important, and that ministry will go on. Please stay tuned to The Messenger for updates.
With deepest affection,
Mother Liz+


Share this on your social network: