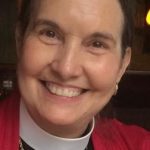 We Are On A Journey
Words from Mother Pat+
Our Spiritual life is a journey which engages all our senses and calls us to engage passionately in God's life and in God's work in the world. People engage by connecting to one another, by symbols which represent significant values, and by meaningful experiences. This is one reason that worship is a central part of our week, because it is a time when we come together as a community of faith to experience God's presence and to offer ourselves to God's service.
The mission of St. Matthew's says, "Our MISSION is to continue the Incarnation of our Lord Jesus Christ, by serving the greater community through loving its children, caring for the unfortunate and witnessing to the healing power of God's love."
On this journey as a disciple of Jesus Christ, we are both followers and leaders. We follow the guidance of the Holy Spirit, but our lives become models which others emulate and follow. So we both follow and lead. We are not ordinary disciples, we are those sent to serve. As your interim rector, part of my ministry is to equip and empower you to live into your discipleship in the ways you believe God is calling you to serve. Interim work also challenges us to ask, "what is God calling us to do now and how is that different from what we may have done in the past?" We will each be challenged in this work that God calls us to undertake. One theologian put it this way, "Our Christian journey is God letting us be who we are, all the while begging us from the cross to be who we can become." God has given each of us unique gifts to use to help others and we will be more fulfilled when we use these gifts for God's kingdom. Because we have been created in the image of God, we are called to live into that identity.
Our lives are a journey with God. Sometimes that journey takes us on well worn paths and other times the journey is over unfamiliar terrain. This next 12 to 18 months will be such a journey for St. Matthew's as a parish. Staff have transitioned to new positions and things will change, not because of any problem or issue; but change is inevitable for all of us. Even if I could do exactly the same things as your last Rector & Associate, things would still be different, because we are all unique and beloved of God. Each of you will change as well, because we walk this particular path together and our companionship forms us uniquely into the body of Christ in this time and place. The joy is that God loves us as we are and God challenges us to become who we could more fully be as God's beloved daughters and sons.
In scripture, we read one account after another where Jesus takes off with the disciples on an unexpected journey – across the lake, to the land of the Gentiles, on a teaching mission, healing the daughter of a synagogue leader, raising the dead, having dinner with friends, going to a wedding in Cana, and the list goes on. Over and over Jesus hops up and off he goes with the disciples. Jesus never really tells the disciples where they are going or what exactly will happen on the journey; and likewise, most of our journeys with Jesus are surprises in someway or another. But we, like the early disciples, always know that Jesus is with us; so we can embark on the unknown journey with less trepidation perhaps. I invite you to think about this interim period as a time when Jesus invites us to journey to new places and to see and do new things so that we are gaining new skills as disciples.
We are not ordinary disciples–Jesus calls us, equips us and sends us out to do the work that he left unfinished. We are those who model his life. We are those who point to God. We are those who serve, heal, teach and lead others to Christ – not because we are perfect, but because we have been called disciples and friends of Jesus our Lord. Thank you for allowing me this opportunity to journey with you. I am excited to share ministry with you as we go in love to serve and heal God's people. Mother Pat+


Share this on your social network: