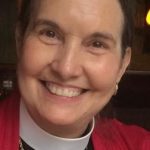 Growing Fiery Wings
I keep a picture by Erica Grimm Vance entitled "Growing Fiery Wings II" by my desk in my home office. It is a painting of a person seated on the ground with their feet flat on the ground, their knees tucked under their chin, and their arms outstretched in front of them. It looked like most of us would look if we tried to stand from that sitting position – the expression on the face was one of determination and effort because it is almost impossible for someone to rise up from that position. Yet, there is more to the painting. Transparent and abstractly painted from the arched shoulders and the leaning back all the way to the outstretched elbows is a streak of red almost like webbing. The red looks like the beginning of transparent fiery wings which will lift the person upward. It is an image of what God's Spirit does to us in this life. God's Spirit enables us to stand when it seems impossible. God's Spirit gives us fiery wings which help us live and act faithfully.
This long liturgical season following Pentecost, from June until the end of November is focused on living the gospel of justice and compassion. This image of growing fiery wings challenges us to do the hard work of growing our own "wings" so we can live and act faithfully. All the Sunday readings encourage us to let the fire of God's Holy Spirit make our wings stronger and more powerful with each new day. This is the season of discipleship. This season does not focus on God's coming into the world as a child nor does it focus on Jesus' earthly life and ministry. The season following Pentecost begins with the arrival of the Holy Spirit often described as flames or tongues of fire; and Pentecost challenges us to live as Christ in the world. This season invites us to show the world the power of God's Spirit within us.
Each of us has holy fiery wings which can grow in our lives and lift us up. Fiery wings which free us from the forces of gravity and worldly concerns. Many things can weigh us down and keep us stuck in a seated position from which it is difficult to do any work. So how do we grow these fiery wings? God does the work of growing our wings, if we do the work of seeking out God's presence in our lives and committing ourselves to God's work. Our fiery wings are good only for the work God gives us. Our fiery wings don't give us super powers to fight crime or leap tall buildings. Our God-given fiery wings are to help us live out our ministries and build up God's kingdom here on earth.
In this season of discipleship and growth, we invite you to pray about what God wants you to do with your life. God wants us to do more than sit on the ground and struggle to stand. God wants us to get up and work for justice. God wants us to engage in ministry and service which lets people get a glimpse of God's Spirit and power. Take the time to pray about your ministry. Take the time to reflect on what you need to do to let your fiery wings grow. If you can't discern what God is calling you to do with your life now and into the future, then perhaps you need to ask your family and trusted Christian friends to help you see what steps to take.
We have been marked as Christ's own at our baptism and sealed by the power of the Holy Spirit. The genetic makeup is there and the fiery wings are ready to grow. They may appear gossamer thin and barely visible to you when you struggle to do God's work; but with each act of faithful service and each moment of prayer and study – those fiery wings grow stronger and God's Spirit becomes more visible in you and in me. Take on a spiritual exercise program which strengthens and grows your fiery wings. Together we can do great things through the power of God's Holy Spirit. So, let's get to work. Mother Pat+


Share this on your social network: