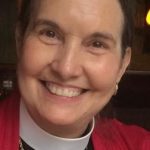 A Word From Mother Pat+: What Next?
Welcome to the world of transition and change.  I realize that none of us asked for change as rapidly as we have seen it over the past 18 months.  No one requested a highly contagious and deadly virus which precipitated a world-wide pandemic.  And I am sure no one wanted this crazy situation to continue into late 2021, and yet that is the situation that we face.  In Gwinnett county we still have a high level of community spread of the delta variant of COVID-19.  Based on the most recent CDC guidance and the latest Diocesan guidelines, we will need to continue to wear masks while inside St. Matthew's buildings.  I realize that many of you may be vaccinated, but the delta variant has a breakthrough rate which puts everyone at some level of risk again.  I will be working closely with your Vestry as we navigate a way forward while this pandemic still impacts so many in our community.  At this point, face masks covering the nose and mouth are required for all individuals regardless of vaccination status.
What next?  The interim work begins as we attempt in the midst of high COVID community spread to "re-open" and to re-engage with more in-person ministries and activities.  We will continue to live-stream worship for those most vulnerable and at risk of infection; and at the same time we will be trying to return to a full schedule of ministries and activities.
My plan is to try and meet with each committee and ministry over the next few months so that I can assist in the "re-entry" process from the somewhat suspended state of St. Matthew's ministries to a more robust level of work in line with St. Matthew's mission statement and within the guidance and leadership of your vestry.  Some ministries will not be able to resume until the level of community COVID spread has again gone down.  Those ministries impacted by high levels of community transmission includes home visits by Stephen's ministers, pastoral care teams, and the sending out Lay Eucharistic Visitors.  For those ministries considered at highest risk, we will meet and try to establish other methods of supporting those individuals served by the pastoral care team.  For some ministries which have been on hold, we now need to identify, train and equip new people for the work so we are ready when we can resume pastoral visits.
Throughout the Fall season, we will be inviting you to prayerfully consider the ministries that you have done and the ministries that you wish to do.  This may be the time to try something new or to energetically jump into an existing ministry you have been doing and figure out new ways to get the work done.  We also ask you to continue your financial support of St. Matthew's as we resume our program year.  It has been a difficult year for many of us, but I know that God's work is important work and that St. Matthew's parish is ready to get on with the mission work of incarnating Christ both within the parish and in the greater community.
So, what next?  A time to review and examine what St. Matthew's has done and to develop a plan for what St. Matthew's will do now and into the future.  Over the next year, your Vestry will be working on a strategic plan for the parish and while that may sound like a business plan, it is not.  Your Vestry are spiritual leaders of this faith community and as such, they listen to the guidance of the Holy Spirit to make faith-based decisions about both temporal and spiritual matters in conjunction with your clergy.  In tandem with the work that you and the Vestry will do to re-start, re-new and re-purpose ministries and programs of the parish, the Discernment and Search Committee will be working on developing a parish profile, a list of values and characteristics which describe who comprises this parish and what you hold as important.  That Discernment group will seek input from the parish and vestry as they do their work.
What next is defined by you, by the vestry and by the work of this interim time.  All of us working together will make this a time of growth and renewal.  Some ministries and programs may elect to take a break and others will emerge to meet new ministry needs.  Things will change and yet things will remain the same for God is with us; and God is in this work that you will do.  One goal is to prepare for a new rector but the larger goal is to prepare for this new chapter in the life of this parish.  God has great plans for St. Matthew's and now St. Matthew's has to take time to discern what actions, ministries and community involvement is part of God's purpose now and into the future.
Be patient, be prayerful, be faithful in worship, ministry and financial giving.  God is in charge of the results of our prayerful and faithful work; so during this interim time we rely on God to lead us on a journey into the unknown.  Trusting that God will always be with us and guiding us to the building up of God's kingdom.  Mother Pat+


Share this on your social network: