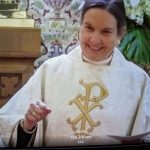 This pandemic seems to be endless. Nothing is the same as it was "before". We still can't gather in-person for worship without wearing face masks. Our usual daily routines with work, shopping, lunch with friends, bible study, hobbies and exercise routines have all been disrupted by the threat of viral spread in our communities. Even school looks different for our children and grandchildren. So what are we to do?
God calls us to persevere. In the midst of difficulties, God is with us and God calls us to continue on with the work of building God's kingdom. Our second baptismal promise is about perseverance in the face of evil and in the face of forces we cannot readily change. Now, I am not calling the pandemic evil, but it certainly obstructs our normal ways of living and working and worshiping in community. Sometimes, the pandemic has offered us a reason not commit to the work and ministry of discipleship that Jesus wants us to do.
So how do we find God in the midst of this turmoil and uncertainty when our usual spiritual practices and routines have been disrupted? First, if you are able, wear a mask and come to worship on Sunday in-person. Demonstrate by your actions your faithful perseverance in the face of this adversity. If you are not able to attend in person, then participate on-line singing the songs, reading the prayers and listening to the voices of the community of faith whose prayers support you as you join by the miracle of technology. Why do we invite you back to worship as a call to persevere? Well, on-line worship is nice, but it does not provide us with the richness and fullness of traditional worship surrounded by other Christians and hearing the music soar into the rafters and feeling the physical movement of walking, standing, kneeling and bowing. Movement is one thing we may miss in our worship at home and movement has memory attached to it which we tend to miss on-line. Yet over and over in scripture, physical movement along with seeing and hearing are a part of how we encounter God.
We promised God at our baptism and on many other occasions, that we would persevere in resisting evil and when we realized that we had not fully met our vows to God; that we would repent and return to the Lord. Our answer to the "Will you" question of perseverance is "I will, with God's help".
To repent and return to the Lord, is to recognize where our will has gotten in the way of God's will for our lives. When we realize that we have not been intentional in prayer, worship, study and Christian fellowship; then we repent, we turn around and renew our commitment to God's plan for us and for the building of God's kingdom.
Every day, we are called to persevere in living the gospel message and in working for God's kingdom. I invite you to prayerfully consider how you can more fully engage in the life and work of St. Matthew's. As you pray and discern how God is calling you to serve, please complete the ministry commitment form and place it in the offering plate or drop it in the office door drop box. May your week be filled with joy and wonder in each new day. Remember God is always in our midst, even when we cannot discern God's presence. We are called to simply persevere in our journey of discipleship and God promises to be with us always. Blessings, Mother Pat+


Share this on your social network: