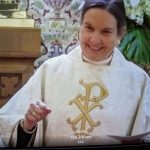 This is a busy time of year for all of us in our personal lives and in the life of the parish. Over the past 6 weeks, the Vestry, the Stewardship team and the clergy have asked each member of St. Matthew's parish to focus on their baptismal vows. This is the time of year when we ask each member of St. Matthew's to pray about their commitment to ministry, service and tithing. We engage in this cycle of prayer and discernment in order to decide how God is calling us to work for the Kingdom in the days ahead. God wants us to be part of bringing the world to Christ and so we need everyone to do their part to help bring God's vision to reality in this time and place.
There is an old joke that says "God is coming, look busy!" This joke of course assumes that between the time of Jesus' ascension back to heaven and His second coming that somehow God is in the dark about whether we are busy working for God's kingdom or focused solely on ourselves and our own ambitions. The truth of course is that God is fully aware of our choices and our work and "looking busy" isn't necessarily what God has in mind for us.
By the time you get this newsletter, many of you will have prayed about your ministries and committed to service for the coming year and you will have offered a financial pledge to God's work in and through St. Matthew's. For those who have not yet completed your discernment, I would encourage you to prayerfully do so. God needs all of us to work for the coming kingdom. Every act of ministry and every gift for God's work is important, no gift is too small or too insignificant to be blessed by God and used for God's work.
Perhaps you are wondering why we renew our ministry and financial commitments each year rather than just giving and serving as we have in the past. Well, God calls us to new challenges from time to time and God may be calling you to stretch your comfort zone and commit to something new. There are so many opportunities to work for God's kingdom that we have to select only a few ministries where we believe our gifts can best be used.
Balance your spiritual portfolio – make sure you have a commitment to some type of Christian education or Scripture study, personal prayer time, corporate worship, and service both to the parish and to the community. Lastly, make some commitment to financial support of God's work at St. Matthew's – it does not have to be a Biblical tithe of 10%; but when we give of our treasure in whatever amount you decide, you will find your faith in God is strengthened and God's work can be done.
There are many opportunities for spiritual growth and I encourage you to take advantage of them. Start with Christian Education on Sunday mornings – just 45 minutes of conversation and discussion with other Christians can give you new insights and keep you from Spiritual stagnation. Water which simply stands in a pond or pool will become stagnant unless it has a fountain to circulate the water or fresh water is coming in. So it is with our spiritual lives, we become complacent and stagnant when we don't get fresh ideas and insights.
So, engage in the work of building God's kingdom and commit to prayer, study, ministry and service.
See you Sunday. Mother Pat+


Share this on your social network: