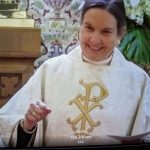 Will you strive for justice and peace? Will you….?
Our final baptismal promise asks, "Will you strive for justice and peace among all people, and respect the dignity of every human being?" Our answer is, "I will, with God's help." Yet this promise seems like such a lofty and far away goal that we usually don't know how to begin. One way that we can begin is to pray about what God wants us to do to help promote justice and peace. We can pray that God will let us see Christ in each person we encounter, talk with or hear about each day and invite God's Spirit to engage us in seeing that person with the eyes of Christ.
Each of us is called to spend our life for God. We spend lots of things. We spend our money on food, clothes, cars, houses and other things we need to live. We spend our time on work, play, family, friends, and God. We spend our talents on our work, our hobbies, and our world in an effort to do the best we can with our gifts.
All our "spending" has one thing in common – we give something in order to get something. We give money (spend it) for items or projects that we want. We spend (give) our time to those efforts we believe are important. Spending means giving something in order to get something else or to make more of what we have. So if we are called to "spend" our life for God, what are we giving and what are we seeking to get?
My answer would be that we give all of ourselves, our time, our abilities, our treasure of money and love to the One who gave it all to us. We give back to God that which God has so lavishly given to us – love. We do all of this in order to develop a closer relationship to God. In order to get closer to God, we give away (spend) those things which keep us from putting God first. We spend (give) in order to further God's kingdom and share the love of God which we have been given. We give (spend) in order to have unity of heart and will with Christ our Lord and Savior. We spend our time and resources to strive for peace and justice in a world where profound issues of racial inequity, poverty, and discrimination abound. Our 5th baptismal promise calls us to spend our time, talent, and treasure both individually and corporately to bring God's vision of peace, justice and dignity into our sphere of influence.
We all choose how we spend our time, talent and treasure. Our time, talent and treasure are those parts of our lives where we have to make choices. What we seek as we spend our lives (time, talent, and treasure) is to have a deeper and deeper relationship with God who is the source of all good things. Love is the key to spending well. God's love for us is the source of our talents, our treasure and our lives. God's love for us provides us the reason for us to spend our lives for God. There are many opportunities on the ministry commitment form to share in the work of justice and peace. Support outreach efforts, volunteer to serve in justice ministries, pray for the needs and concerns of those around us; and then act on behalf of Christ to serve those in need.
Spending our lives for God does not mean giving up who we are. It does not mean abandoning our families or leaving our jobs. Spending our lives for God simply means recognizing that the choices which we make everyday about how we live, where we focus our energy, what we spend our money on, tells the world what we value. So spend your life for God by remembering God's love for you and then loving others in God's name. Spend your life fully living and don't be afraid that you will run out of currency, because God's love flows into us faster than we can ever spend it!
Strive for peace and justice in the name of the One who loves all of creation. We are the beloved of God and our work on behalf of peace and justice helps everyone learn that they too are the beloved of God. Mother Pat+


Share this on your social network: