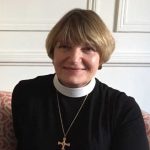 Dear Beloved, Advent is upon us! What is known in the world as the Christmas Shopping Season has an almost opposite meaning in the Church. Rather than the busyness that inevitably comes with this month before Christmas, Advent invites us to slow down and reflect on the miracle that gave us the reason for Christmas: God chose to become incarnate and dwell with us in the Person of his Son Jesus Christ. Last Sunday, we finished Year B with acknowledgement of Christ as King. This Sunday, we begin the story again, but told through the voice of St Luke.
It is my favorite season, and I think I put more emphasis on the first Sunday of Advent than January 1st as the start of a new year. That's because this time in the church calendar invites us into a season of hope – hope that counters the encroaching darkness of winter; hope that tells us that as difficult as things may be, the resiliency and persistence of God in Christ to bring light into that darkness perdures (endures).
I mark time using an Advent wreath at home that I light as I begin evening prayers. There is something about the light of those candles as the day goes dark and cold that is meaningful to me. I keep the wreath lit through the reciting of the Phos hilaron (BCP 118), so that the candles might last the whole season of Advent. The lighting of the wreath and the praying of the Evening Office settles my heart and mind for the evening. All the stress of the day fades as I consider the miracle of God's love in the gift of his Son.
Last year, I put together a list of readings materials that are good to mark the season. If you would like a copy of the list, send me an email and I will send it to you. This year, I would like to share a couple of websites that will have Advent meditations on line. The first is from my seminary in Austin, the Seminary of the Southwest. The link can be found here: 
https://ssw.edu/blog/advent-meditation-sunday-december
If you click on the link, on the right side you will see a place where you can enter your email to sign up.
The other link is from Virginia Theological Seminary. The link can be found here:
There may be other places on-line, but these are two good ones with which to start.
I pray that you are able to set a side time for prayer, or reflection, or just time to be quiet, so that you are able to prepare your heart for God's gift to us at Christmas: Emmanuel, God with us.
Advent Blessings,
Liz+


Share this on your social network: