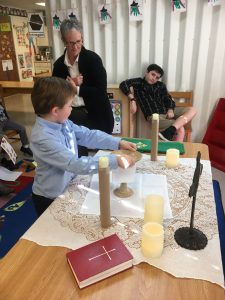 Teaching the Traditions of Worship To Our Children
The liturgy of the Episcopal Church is participatory– that is, those attending take part in the service by singing, praying, listening and responding to what is happening during the service. The goal of Junior Worship is to help children understand the parts of the service, to help get them ready to sit and worship with their families on Sundays through the whole service.  Junior Worship occurs during the first part of the 10:30 service on Sundays. Children ages 5-8 (through 3rd grade) follow the verger out of church and return to their families at the Peace so they can take Communion with their families.
Junior Worship follows the outline of a regular church service. The lead can wear a chasuble much like what Mother Liz wears. The kids get a kick out of it! They even have our own bulletins. The kids enjoy the up-close approach to the altar where they can touch everything and ask questions. They walk into the classroom down the center aisle of their "pews"; they sing, light candles (battery operated of course) and follow along in their bulletins as they would in "Big" church. They say the Children's Creed, the Prayers of the Children (Prayers of the People), the I'm Sorry (confession), and the Lord's Prayer.
Lessons in Junior Worship are different from what the children are learning in Sunday School. What we're trying to teach are the "nuts and bolts" of the church, answering questions they may have while they sit in service with their families. Hopefully, once they understand what is happening, when, and why, they will be better equipped to sit all the way through service. Remember, the service can sometimes seem long to adults, too!
Check out the pictures for a little taste of what we're doing!


Share this on your social network: