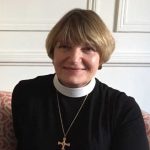 We are moving into the middle of summer, where families who have not yet been on vacation are planning to take off for perhaps cooler parts, or at least the beach.  Normally, some families would be planning that last, long weekend trip before school starts.  It goes without elaboration that this is not like any other year.
Some of you have gone to the mountains, or to the beach, or out west.  Some have opted for "stay-cations".  Either way, you have taken time to come together as family, traveling perhaps under new rules, or staying home, but still spending quality time together.  It is interesting to me that we Americans are a resourceful bunch:  we understand the challenges the world is throwing at us, but we do not let it defeat us.  It is not just the patriotism of our recent July 4 holiday that makes me proud to be American – it is all of you – willing to find ways to still look outward, in the midst of a pandemic, to see what help you can provide to others.  Our May food drive, the Co-op BBQ dinner in June and the on-line VBS program this month are all examples of this.  A BIG shout of thanks to all who participated in these events – you know who you are, and you know how it feels when deep down, you realize you've done something good.
At St. Matthew's, we continued to plan for an eventual reopening of the campus, and for being able to have services on-site.  However, as all of us know, this stubborn virus continues to thwart establishing a date we can depend on for when this will be.  The bishop announced on June 17 that churches could return to on campus worship after July 1, and of the 117 worshiping communities in the Diocese of Atlanta, five opted to do this.  However, with the numbers ever increasing, the bishop asked them to delay, and they did.  If you follow the news, you will know that other denominations are also struggling with this and many have delayed plans to reopen.  We will announce a return to sanctuary worship when your advisory committee and vestry feel it is most safe to do so, and the bishop allows it.  Stay tuned to your weekly Messenger for updates on this.
Last week, we sent out a survey to all of you, asking for your input on what directives would need to be in place for you to return to sanctuary worship.  I encourage all of you – any member in the household 16 and over, to fill out this survey.  For those of you who are not comfortable doing online surveys, we have paper copies available.  Call Charmaine or Susan in the church office and they will send you one.  There will be instructions on how to get your paper responses input into the computer so that YOUR opinion can be counted.  The deadline for return of this information is July 23.
On another note, I ask you to pray for safe travel and new beginnings for two of our families who are leaving us.  Lois and Jim Sivert are on their way to the airport as I write this.  They are moving to California to be closer to their children.  The company for the senior complex here in Snellville has found them a nice apartment in one of their facilities in Vista, California.  You can contact Gini Reid for their new address.  At the end of the month, Beth and Gail Still will head for Colorado.  Please pray for safe travel, for success in the move and for both families to find a wonderful Episcopal Church of which to become a part!
I will be taking vacation from July 21-31.  Chances are good I won't be traveling to Florida this year, but I have promised myself that I will turn off my phone and relax.  Senior Warden Becky Olbon and Father Tommy will both be around and will know how to reach me in an emergency, as will Susan Carson and Charmaine Warmington.  But I take this break, knowing that the parish is in excellent hands.
Beloved, you remain in my prayers.  Please pray for your clergy, staff and parish leadership, Lord knows we can all benefit by prayer!  God's Peace, Mother Liz+


Share this on your social network: