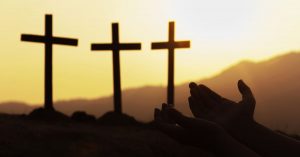 Lent is a time of stepping back and being thoughtful about deepening our relationship with God, mindful of what God has done for us, the sacrifice of God's Son, Jesus Christ, and the ways we fall short of what God asks of u. s.  At St. Matthew's we have many opportunities to step closer to God in relationship and service, reaching out for reconciliation and God's healing presence in our lives.
Sunday Services in Lent  beginning 3/15/2020 — Due to the COVID-19 virus, we are suspending services and all activities at the church through the end of March. Please see the letter to this effect regarding worship and activities at St. Matthew's here.
St. Matthew's will be offering online services on Facebook Live at the following times during the next few weeks:
Sunday at 10:30 a.m.
Monday through Saturday:  Morning Devotional at 8:00 a.m.
                                                               Evening Devotional at 6:00 p.m.
You can find our Facebook page here.


Share this on your social network: