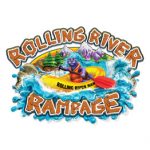 July 9-13, 2018
9:00 a.m.-12:30 p.m.
Cost: Before June 15 — $20 per child
After June 15 — $25 per child
(payable on first day of camp)
Camper Registration is OPEN! Click here to register your child.
 School Level: Pre-K through rising 5th Grade (4-11 yrs. old)
Volunteers are needed! To apply, click here to help!
Information on Special Needs VBS (Tuesday & Thursday, modified hours) coming soon.


Share this on your social network: