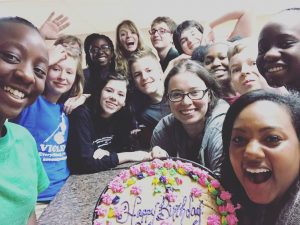 Exploring the Damages caused by Racism, and Taking Steps toward Healing.
On Feb 16-18, 2018, our youth had the opportunity to take part in a retreat to begin a life-long process of learning how to dismantle racism.  They learned about the damages that racism has caused and is still causing in our society, and about steps we can take toward healing, the first of which is being willing to participate in uncomfortable conversations with an open mind and open heart, which they did with compassion and respect, an example for us all!
The Youth at St. Matthew's are piloting this curriculum for the Diocese of Atlanta so that it can be released nationally in collaboration with the Absalom Jones Center for Racial Healing (formerly the Diocese of Atlanta's Beloved Community: Commission on Dismantling Racism).
Here is what the participants had to say about their experience:
"On this weekend journey to dismantle racism, I've learned more about our nation's history than at school.  But this experience wasn't bad, nor negative.  We talked about racism in a transformative way, shining light on old wounds and finding different ways to heal them…I learned about so many different cultures and how they are all beautiful in their own way. But we were also informed about how deeply ingrained racism, oppression, and inequality is in our day to day society…This program will open up the doors to my and future generations of white children and children of color for a perfectly equal society, and knowing how to make a difference."  ~Nadine
"This experience has really helped me realize what I can do to help this world grow and heal.  There is so much pain still in the world, and covering up our history will only prolong our sentence to that pain.  Racism is not a thing of the past, and the stories of young black girls, biased Google searches, and charted history lessons only accentuate this fact.  I now know how to respond to racism, and have the courage to confront everyday prejudice.  The entire world need to know about discriminatory messages sent to young kids that have not stopped.  We can no longer ignore our past, and I now have the tools to make my contribution to the world.  We are the generation that will change things.  We will see ALL of the beauty around us." ~Murphy
"This weekend was very inspiring to me. I learned so many things that I didn't even know before… There were so many instances where the brutality of the world just shocked me, and baffled me….What stuck with me the most was probably the fact that even some 3 year old girls/boys saw themselves as bad because of the subtle messages being absorbed by them from TV, and movies, and things like that.  Overall, this was one of the best experiences of my life, especially seeing love and compassion being shown through customs and traditions, and I love this group so much and I cannot wait for the next retreat." ~Nadira
"The retreat was an eye opener. We tackled the complicated issue of racism.  Even though slavery and segregation have stopped, racism, as a whole, has not.  It does not affect me that much in everyday life, it was both interesting and devastating to realize how it affected people of different races.  Although I will never know exactly how it feels, I now realize how it really affects some people. What is one to do about it? Dedication and teamwork.  People need to work together to solve this problem, no matter what race.  Realization [that it's an issue] is half the battle.  Without this retreat, I wouldn't have known what I know now. I wouldn't have made friends of people from all different cultures or backgrounds.  The retreat was amazing, and I will do all I can to fix this problem." ~Liz
"This has been very transformative.  I learned that racism is still common today.  We need to bring these issues to the light.  Our community can't turn a blind eye to the injustices around us.  I've learned that I need to look for the truth and stand up for what is right, even if it is "not my problem." God made everyone in His image; discriminating against one race would be an insult to God.  We just need to love our neighbor as ourselves."  ~Katie
"Over the course of this weekend, I experience so much learning, and I heard personal stories that were powerful and painful.  I also gained a lot of knowledge about systems that have been set up and maintained for decades to disadvantage people of color.  From now on, I will be able to recognize these systems and identify any personal prejudices I have myself." ~CJ
"During this retreat I have learned how much racism still affects society today and that society is feeding us so many messages affecting us even if we don't realize. I will try now to go against society and follow my own morals/beliefs. I also won't give in to internalized oppression." ~Nailah
"I came to, mostly, hang out with my friends, but I came out realizing how much a problem this actually is  According to a study we saw, about 72% of [young] black kids believe that being white is better.  Because I learned facts like these, I'm going to look for opportunities to educate/inform people about the severity of the situation and sharing my knowledge on how to deal with it!" ~Derek
"On Friday, we made a covenant to God which is basically a promise.  In our covenant, we thought up ways to show love to God, others, and ourselves.  Making this covenant has helped me learn more about the people around me and myself. I have learned that not everything is my fault and it's ok to mess up as long as you have good intentions.  I will no longer put so much pressure on myself." ~Neema
"My experience of this weekend was full of friendship, laughs and learning. At the start of this weekend, I was hesitant about how it would go; after all, this is as sensitive topic.  As the first day progressed, I learned about how people of color had been cheated since the beginning, and how stereotyping has not helped their case.  This has convinced me to try to be open and accepting of everyone, and ignoring initial assumptions, and try to get to know them.  At the close of this weekend, I feel I have a better sense of myself and the world, and what I need to do to help." ~Andrew
"This weekend I was a part of a Dismantling Racism Youth Retreat. We sat and talked about some really hard/ painful topics such as internalized oppression, white privilege, systematic oppression, what it means to be white in America, what it means to be a person of color in America (just to name a few). We looked at how the church has often been on the wrong side of this issue and how as the church of today we are to be a part of the Beloved Community! We created a safe place to share and be heard, it was one of the most beautiful things I have ever been a part of. Everyone spoke to each other with dignity and respect. We laughed, cried, hugged each other a little tighter than usual, and we left empowered! I feel hopeful for our future, because we have young ambassadors going out into the world informed and ready to right the wrongs of a broken history. We choose to walk in compassion and not fear. We choose to love as Jesus loves and fight for social justice. We choose to be kind to everyone, no matter the consequences. We choose to walk in the Truth and do it in the name of Love. I am grateful we serve a God who is a reconciler and calls us all to be reconcilers wherever we go. So, take notes from these inspiring middle and high schoolers willing to have these conversations, so that we can be the change. Thank you Sally for creating an awesome curriculum that I fully believe will change the world." ~Crystal (Leader)


Share this on your social network: