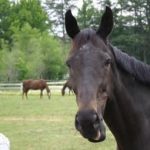 Using a little horse sense, Stephen Ministers from First United Methodist Church (Lawrenceville) and St. Matthew's Episcopal Church (Snellville) came to Winning Strides for a unique continuing education experience.
In equine assisted learning, we often use metaphors to reach our objective. Each Stephen Minister was asked to choose an item in the arena that represented a spiritual gift or strength they use in their care giving as a Stephen Minister. Some examples included being a good listener, having compassion, being trustworthy, skilled, and full of faith. Then, with the horse representing a care receiver, the group had to move the horse from one end of the arena to the other without touching it.
This was a harder task than they thought, since care receivers (and horses) often have a "mind of their own." But in the end, they learned:
·     sometimes you have to lead and sometimes you have to gently push
·     care receivers get "stuck" on their journey
·     patience is always required
·     you never give up and always stick with your care receiver.
Even with torrential rains, an earlier tornado warning, and cool weather, spirits were high and laughter abundant.
Stephen Ministers are trained care givers, who are sometimes called the After People.
They are ready to come alongside anyone who has suffered a crises in their life and provide comfort and support for as long after as needed.
Stephen Ministry was started 40+ years ago and is active in 13,000 congregations.
For more information, visit their website at www.stephenministry.org.


Share this on your social network: