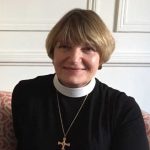 Musings from Mother Liz:
A Meditation for the Triduum
Maundy Thursday, April 9, 2020
In the Gospel reading from Mark appointed for the Daily Office today, Jesus is in the upper room celebrating Passover with his disciples, when he institutes the last supper, by sharing bread and wine and profound words of these simple foods being more than that.
If this were like previous years, we would gather tonight at the church; we would share our last Eucharist together; we would wash feet and hands; we would follow the procession as the reserve sacrament is placed in a space where meditation on the significance of Jesus' act could be contemplated in silence while we maintained vigil. We would watch as the altar and chancel slowly become bare; the symbols of what we do in this space removed, one by one. When there was nothing else to say that could be said, the lights would be turned down, few people would remain for the Vigil, and the rest of us would leave in silence, feeling the air grow thick around us, walking more slowly; more heavily than we did when we entered.
But this year is not like any other year. This year is different. Tomorrow, we will contemplate Good Friday at home, When we awake, we will sense that the day is different, but we will not be sure if it is because it is Good Friday, or another day of forced isolation because of COVID-19. Since we cannot go to the church for Good Friday services, we look forward to the service posted on our Facebook page, but some of us will create our own silent space. We will turn off the television and the iPad, and put our cell phones on mute, – acts that will intentionally disconnect us from our only contact with the outside – hoping we can mark this day as different from the isolated days before it. As we sit in the silence, the memories of previous Good Fridays float through our consciousness. In so short a time, so much has changed.
Perhaps we sit in the quiet, and think about Jesus, and we find that there is a new level of understanding for us in how alone he was. Betrayed by one of the twelve, denied by Peter, deserted by all of them – Jesus stands in front of the Sanhedrin leadership alone; in front of Pilate, alone. He will walk to the cross alone. As he cries out from the cross the first verse of Psalm 22, we realize that even God seems absent.
It might lead us to think about the false charges made against Jesus by the Sanhedrin; and our question could be, "why did Pilate have to condemn him to death?" Pilate found no guilt in him; no cause to hold him; he is even warned by his wife to have nothing to do with this man Jesus. But he gives in to political pressure and the demands of an angry crowd. Our hearts hurting at the blatant injustice, our thoughts turn to those who have died from COVID-19; "injustice" has many faces. We hang our heads in sorrow at the large numbers of people infected with this virus, and we mourn those who have died.
It is a sad fact that nothing can change the past; wishes and anguish change nothing.
But if there is a purpose to our sadness and mourning at all, it is to connect the suffering of Jesus with the suffering in the world today. As we sit in sorrow over the injustice of Jesus' death, and tears prick our eyes when we consider the painful way he died, we remember what is occurring around us, as this virus moves indiscriminately through countries, states, towns, homes, families – and even our friends.
The grace that lies deep in the sorrow and pain we suffer is the knowledge that God suffers with us. How else would we be able to get out of bed in the morning, if we believed we had to carry this sadness and pain alone? In the person of Jesus, God suffers with us. And through it all, God loves us. In his letter to the Romans, Paul writes this:
"If God is for us, who is against us? He who did not withhold his own Son, but gave him up for all of us, will he not with him also give us everything else….Who will separate us from the love of Christ? Will hardship, or distress, or persecution, or famine, or nakedness, or peril, or sword…No, in all these things we are more than conquerors through him who loved us. For I am convinced that neither death, nor life, nor angels, nor rulers, nor things present, nor things to come, nor powers, nor height, nor depth, nor anything else in all creation, will be able to separate us from the love of God in Christ Jesus our Lord".
Trust this, as you move slowly through this dark time. God, too, knows what suffering means. God wept on that Friday so long ago, and God weeps today. God's heart breaks for us and with us. But God does not leave us. We claim the promise. We are not alone.


Share this on your social network: