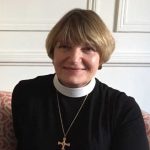 As we move from June to July and head to an Independence Day weekend, my prayers continue to be for your good health and your safety.  Last week I provided information from the Diocese of Atlanta about the decision to allow churches to reopen after July 1, provided the churches follow a list of safe practices.  First and foremost, we would LOVE to have worship available on campus, but we want to be sure we can offer a space where everyone feels confident they are safe.  We have a number of teams working on ideas for worship, gathering materials needed to disinfect the buildings after use, signage to remind us of what each of us can do to best keep the areas safe for ourselves and for others, and logistics around how to gather no more than 35-50 people on a given Sunday.  Even as we do this work, we are mindful that the increasing number of cases in Gwinnett County may delay our opening beyond July.  So, I was excited to see a wonderful offer from the Diocese!
Working through a consulting group called "Holy Cow Consulting" (you gotta love the name!), the diocese has underwritten the cost for any parish to survey its members on how they are engaging in worship and other online options; it also asks questions about your needs or what concerns you or your family has, and what measures we need to take to help you feel safe to regather when the time comes. The survey is only 17 questions and it takes no more than ten minutes to complete.   The consulting group will collect the data, analyze the data for our parish, compare our responses to other churches in the diocese and then meet with us to discuss the results.  You will be able to take the survey any time between July 8 and July 15.  If everyone participates in the survey, we will obtain some very good information and guidance on how to use the data, all at no charge to the parish.
For me, it is wonderful to be talking and planning about the possibility of on-campus worship.  However, when that happens, please know that Father Tommy and I are committed to continuing on-line services so that we reach as many members of St. Matthew's as possible.  Stay tuned for more information on all of this.
Have a safe and happy Fourth!!!!   Mother Liz+


Share this on your social network: