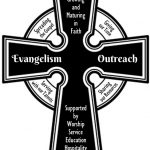 St. Matthew's mission statement starts out this way, "We are to continue the incarnating work of Christ"….   This season is the time when we re-examine our lives not looking at our sinfulness, but looking at how we reflect Christ's image in the world.  How do we incarnate the love of God as lived out in the life of Jesus?
We are Christians and we are supposed to be living icons so that others see Christ through us.  An icon is simply an image which provokes and evokes something greater than itself.  So when people see us, they are reminded of God in some small way by our words, our actions and our willingness to be Christ-centered.  Yet, often the demands of family, work, play, exercise, and service crowd out Christ from the center of our lives.  We fall prey to trying to "balance" or "juggle" all the demands on our time.  Most of us find it impossible to truly "balance" family, work, God, ministry, and personal time to take care of ourselves.  So we skip exercise or we are too tired to pray or play with our children.  Balance is not possible unless we put Christ in the center of our lives.
When we center ourselves in God, we put God in the middle of our day and the middle of our life.  The outer particles of an atom can orbit at great speeds only because of the stability which the atom's center provides.  So it is when we center ourselves on the one absolute, the one thing in life which is constant and stable.  God's presence is always with us.  God's love is always there.  Christ has done the work for us – his life, death, and resurrection have given us the "center".  All the rest of our lives may spin in what seems like a wildly erratic pattern, but with Christ at the center we can be sure that we will always be in God's loving presence; and we can draw upon God's Spirit for strength and guidance.
So, stay centered in God through prayer and worship.  Jesus modeled a life "centered" in God.  He faithfully worshiped, prayed and lived in community in order to keep himself centered.  Take care of yourself so that you can mirror Christ to the world.  Christ is risen and the world has been forever changed.  Stay centered in the One who is the center of all that is.  Reflect the love of God to everyone through your centeredness in God.  We are those people who continue the incarnating work of Christ.


Share this on your social network: