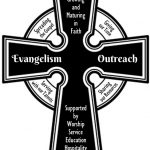 Remember who you are
Commit to God
Give of yourself and the resources you have been given by God
Brothers and Sisters in Christ Jesus, we are all baptized by the one Spirit into one Body, and given gifts for a variety of ministries for the common good.  We are the church.  The building may be where we gather to worship and to study and to serve others; but we are the church, not the building.  One of St. Matthew's parish tag-lines is "it's the people."  So, remember who you are as a child of God, beloved by God, made in the likeness and image of God, and called to follow Jesus Christ as Lord.  Each new day is a gift from God.
At our baptism, we committed to God with our whole being.  Don't look back at yesterday and dwell on the failures or on the successes, because we don't live in the past.  Live today as the gift that it is.  We only have today, there is no promise of tomorrow and we can't re-play yesterday.  So, commit yourself to living the life you were meant to live, a life of love and joy in the fullness of God's presence and in the company of the people of God who travel this road of discipleship with you.
This week the church celebrates All Saints Day which falls on Nov 1st, and then again on Sunday, Nov 7th we remember all the saints whose work has enabled us to gather in praise and worship.  We remember all those in our families and our communities whose lives have touched our own and whose example has inspired us to faithful discipleship.  We also renew our own baptismal vows to God.
Give of yourself and your talents, in ministry to others.  Give of yourself in praise and worship to God.  Give of your treasure in support of God's work in the world.  Give of your time in prayer, worship and in ministry.  Give the greatest gift of all, yourself to God in moments of prayer throughout each day and in weekly worship.
Be the Church because that is what Jesus calls us to do.  The church is the body of Christ and as such we become what the world sees.  Of course, our buildings are a visible reminder of God's presence and the buildings are a wonderful place for us to worship and to do ministry together; but the buildings are not the church – WE are the body of Christ, we are the church.  It takes each of us joined together to show the world the fullness of God's grace and the joy of a life lived in Christian discipleship.
Remember that you are the beloved of God and live like it.  Commit to be an active part of the body of Christ, the Church.  Give yourself to God's work and together we will show the world the love and grace of God by being the Church, the body of Christ in this time and place.
It is time to commit our time, our talent, and our financial resources to the work of God's kingdom in and through St. Matthew's.  The body of Christ, the Church, is incomplete without your gifts.  Tell us how you plan to serve God's kingdom in this coming year.
Come and worship, come and serve, commit to being the Church.  Mother Pat+
PS, don't forget to turn your clocks back 1 hr this Saturday night Nov 6th before you go to bed or you will be really early for worship.  See you Sunday.


Share this on your social network: