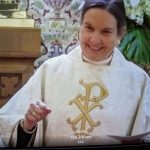 The Advent wreath is a circular ring symbolizing the unbroken and unending love of God. The green symbolizes life everlasting and the four blue candles mark our earthly time of waiting and anticipating the coming of Christ.
In the last 20 years, the Church has elected to use sarum blue in Advent instead of purple to mark the difference between the purple of Lenten penitence and the Advent season of waiting and preparation. The tall white center candle focuses our attention on the light of the world, Jesus, whose presence is central to our lives. The white center Christ Candle is not lit until all the other candles are burning, so in a way it reminds us how important our own lives are in helping bring light to the world while we wait on Christ's return. The Advent wreath continues to be used through the Feast of the Epiphany, with all the candles blazing to mark the light of God in the world during the season of revelation – Epiphany.
The four blue candles can symbolize many things; however the themes of each week tend to reflect the lectionary readings – Week 1: Anticipation of the coming Messiah – Christ child; Week 2: Preparation for the Light of Christ coming into the world; Week 3: Rejoicing for God is near us; and Week 4: Hope for the Prince of Peace comes into the world. Others see the four candles as reminders of the four gospels or the ever brightening light of Christ coming into the world to banish sin and darkness. When purple and pink candles were used, the purple was for penitence and the third week pink candle was a "lighter" purple to allow for Joy to lessen the penitential nature of the season.
Since the change to Sarum Blue for the Advent season, the focus has been one of anticipation, preparation, joy and hope that we might wait expectantly for God to act in our lives and in the world. May this Advent provide you a quiet space so you can prepare your heart and mind for the gifts God has for you. In this first week of Advent simply take time to wait in prayer for God to guide you – Anticipate with joy the days to come.
Have a blessed and holy Advent. Mo Pat+


Share this on your social network: