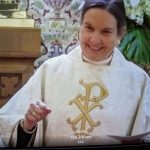 What a great annual meeting!  It was wonderful to see so many people in person and on zoom for the annual meeting.  Thank you for your participation in the meeting, and a special thank you to everyone who gave of their time and talent in ministry this past year. St. Matthew's has continued to thrive even in the midst of a pandemic. That success is because of you.
I invite you to read the full ministry reports which are on-line. If you prefer a print copy, just stop by the office and pick one up. Also, if you were not in person for the meeting, we have a St. Matthew's pen for you whenever you come to the church.
The website and other resources will be updated for the new vestry and wardens.  In case you missed it, Trisha Voiles is the new Sr. Warden and the vestry re-elected Jack Denton as Jr. Warden to provide continuity in this year of transition.  Our thanks to the newly elected vestry members who stepped up to serve on the Vestry for the next three years – Carolyn Coil, Sharon Hansen, Jay Jones & Clay Olbon.  It is always a joy to share ministry with a dedicated group of leaders.  St. Matthew's has certainly benefitted from the gifts of Becky Olson, Elliott Griffiths, Debbie Stallings, and Kim Williamson who faithfully completed their three year vestry terms.  Those Vestry members continuing on are Mindy Barringer, Jack Denton, John Eberhart, Joan Kengla, Judith Kimsey, Karen Wilson, and Trisha Voiles.  More information will be shared by the Vestry as they organize and begin their work.  You are certainly invited to share your leadership talents not only by serving on the Vestry but by working on the ministries and committees of the parish.
For most of us, the work of finding and nominating that next rector has been invested in the nominating committee of the parish, so our work is to pray for that on-going ministry of discernment and nominating. In the next few weeks, the committee will seek your input, then put together a profile of what attributes of a new rector will best enhance the mission and ministries of St. Matthew's. Then we wait again, for those whom God invites to explore their gifts and ministries with the nominating committee. And finally, after all the prayer, mutual discernment, evaluation and conversation, the committee will nominate a few individuals for the Vestry to consider extending a call. Even at that point, we won't know about the progress until the mutual conversation of the vestry with a clergy person results in a formal agreement.
Pray for the process and be patient in the interim time, for God's timetable is not always our own. Remember this is a process designed to find the best match of gifts and skills between the parish and the new rector; even though we may get impatient at what seems like a long process, behind the scenes there is significant work being done.  Pray for that work.
Below is the prayer that the nominating committee has developed for our use during this search process:
Omniscient and All-Loving God, you know the needs of this parish and its people before they are spoken; look upon us graciously, we pray. Send your Holy Spirit to guide us, unite us, and uplift us as we search together for a new rector; and to those leading the search grant minds open to your wisdom and hearts open to your love. Set our feet and our wills on the path you have laid for us, that we may walk in your ways and be your Light in the world, to the Glory of Your Holy Name.  Amen.
Remember that "Together we can do all things through Christ who strengthens us".  So, live into St. Matthew's mission of continuing the incarnation of Jesus Christ by serving, loving, caring and witnessing to God's love.  May we have the wisdom to discern God's will and the courage to act. For there is much to be done in this "interim" time.
Blessings, Mother Pat+


Share this on your social network: