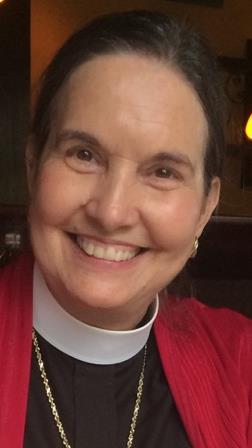 There are hundreds of books written about prayer. I have one entitled, "The Idiot's Guide to Prayer" – it is a fun book to read. Of course, I have others also, books which try to help us focus our attention and our wills on God's desires for us. There are books about prayer using tools like rosaries or methods like centering prayer. The holy and sacred space tool kits we gave you are one more way to focus your attention on prayer and on God.
There are often questions about "how" we are to pray. Should we sit in silence for long periods trying to clear our minds or should we get on our knees and pray fervently out loud all our petitions over and over? Or should we stand and pray using the words of others, written to help us express our desires and concerns?
John Donne in a famous sermon in 1626 wrote about his own prayer life saying, "I throw myself down in my chamber, and I call and invite God and his angels thither; and when they are there, I ignore God and his angels for the noise of a fly, for the rattling of a coach, for the whining of a door; I talk on and on … sometimes I find that I forgot what I was talking about. A memory of yesterday's pleasures or fear of tomorrow's dangers, a straw under my knee, a noise in my ear, a light in my eye, any thing, a nothing, all trouble me in my prayer."
Perhaps we find ourselves similarly distracted in our prayers by the sound of a buzzing fly, the slam of a neighbor's car door, or the sound of a phone text alert.  Distractions are the issue. How do we hold our concentration in prayer when our multi-sensory world and multi-tasking brains keep creating distractions. At night, we may fall asleep before we even get to our prayers because we have been so distracted throughout our day.
When the disciples asked Jesus, "Lord, teach us to pray", their request had nothing to do with techniques or words. The disciples were Galilean Jews, each devout in his own way. They knew how to pray. Lifting their hands upward in devotion or lying prone with face to the ground – these were postures of prayer which they had done their whole lives. So what are they really asking Jesus?  Perhaps the disciples had as hard a time concentrating in prayer as we do. They might have let worries or distractions keep them from remembering what they were trying to do. But maybe they also wanted something more.
By this time, the disciples had been with Jesus for several years and they had witnessed his close relationship to God whom he called Abba, Father. They must have marveled at his trust in God and his intimacy in prayer which they often overheard when Jesus was apart from them in conversation with God. So, like many of us, the disciples wanted a deeper and more intimate relationship with God and they hoped that Jesus could teach them how to gain that level of trust and joy in God's presence.
If you find that you are distracted during your prayers, then maybe what you are praying about is not as important to you as what is distracting you – instead pray about the distractions. However, remember that we are not immediately in touch with God the moment we close our eyes and fold our hands. It doesn't happen just because we kneel and call on God to come. Our relationship with God develops over a lifetime and it requires attention and persistence. Every good relationship requires that we spend time in each other's company and that we talk with each other. That is exactly what we do in prayer. We talk with God and we try to listen to God.
There are more than 250 references to prayer in the Bible and almost always they speak to a prayer request and rarely mention how the person actually prayed. This tells us it is not critical what our prayer style is or the words we use or even our body posture.  What is important is that we know God and that we approach God and ask for what we need.  Always keeping our requests in the context of seeking to know and do God's will.
If you can't ignore the distractions in your life, then pray about them! If you did not get a sacred space tool kit, let me know and I can give you a list so you can start building your own kit.
Blessings on your week, Mo Pat+


Share this on your social network: