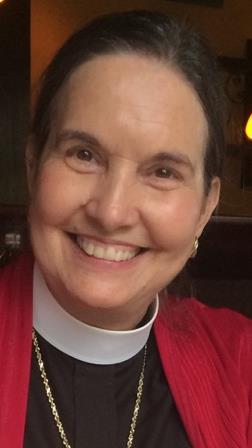 The gospel lessons over the past few weeks have been about faithfulness and prayer. I was reminded about an article entitled "A different way to pray" by Rev. Samuel Wells; and I have pondered the question about how we are to pray for those in distress – what does it mean to pray for ourselves or pray for someone else? I think all of us wrestle with the issue of prayer from time to time. Sometimes prayer is easy and the outcome we hope for is clear; but other times we can't seem to find the words or even a clear request to ask God to help us. For example, when someone has a chronic and incurable disease which robs them of their health and their memory, what do we pray for exactly? Sure, we want to pray for God to intervene and make things better, we want God to change life circumstances and give the person back their health; but is that the only aspect to our prayers. We also want comfort for that person and their family. We want to see God at work in the world. Personal requests for prayer are multifaceted.
When we ask God for a miracle to restore a person to health and wholeness, that is a valid prayer, and we believe that God does provide miracles. However, it would not be a miracle, if it happened all the time, and if it happened to everyone for whom we prayed. Yes, God cares and will intervene in the lives of those we pray for, and God will act and intervene in our own lives; but there is more to our prayer life than just hope in a miracle. Sometimes, God's miracles don't look like miracles to us because we have one outcome in mind and God has another.  Rev. Wells calls this first type of prayer – resurrection prayer because we hope for a restoration of life to the person or persons for whom we pray.
Each of you have faced many difficult circumstances this year and felt the loss of many members of this parish as we have had 12 deaths in the past year. Sometimes our prayers for those we love are not for an extension to life, but we pray for a peaceful and blessed movement from this life into the powerful full presence of God.  Sometimes in our prayers we have to be willing to let go of our desired outcome and let God work in a new way. When we pray what Rev. Samuel Wells calls a prayer of incarnation, then we pray for the Holy Spirit to move in the lives of those we are praying for. We want God's powerful presence to be felt and recognized by them and we ask God to provide them comfort and peace. This prayer invites God into the difficulties of our lives and the lives of those for whom we pray. This type of prayer asks God to give companionship and peace to those in need and many times we are part of God's answer to that prayer. Often, we are those who become companions to those in need and we walk the journey with them in whatever ways God calls and gifts us.
The third type of prayer is in Rev. Wells words, "a prayer of transfiguration." Here is what I think he means by that. In the mystery of the Trinity God works to be with us and to sustain us and to renew us and bring us new life. God works through resurrection, incarnation and transfiguration to continually make new this world we live in and the lives we live. So what is a prayer of transfiguration? It is a form of prayer which invites God to show us a new reality which is beyond what we thought we understood about the situation for which we were praying. Remember that in the transfiguration of Jesus, the disciples glimpsed Jesus in his full divinity as well as in his humanity – Jesus was not changed. Jesus was the same as he had been all his life, but the eyes of the disciples were opened to allow them to see the full nature of Jesus which had always been there.  The disciples may not have understood this new reality they saw, but it gave them a vision of what was and is and is to be. The transfiguration opened their minds to new possibilities. A prayer of transfiguration asks God to allow us and those for whom we pray to see and experience that divine reality which is often beyond our grasp and seems hidden from our earthly vision. When we pray this type of prayer, we ask God to grant us a window into the world of God's mystery and presence. We want God to bring us closer to the divine presence in the midst of our confusion and crisis. We hope and pray that God will equip us, and those for whom we pray, to be those persons who can go and tell others how God is present in the world even if we don't see the results that we long for or the successes that we desire.
I hope and pray that this reflection will stimulate you to ponder your own prayer life and perhaps it will give you a new way to pray for those around you. Regardless of the words we use, when we pray for ourselves and for others, we ask God to reach out and touch us through the power of the Holy Spirit so that God's presence may be known in the world. We are all called to prayer-filled lives. We are those who have promised to pray for ourselves, for those in our community and for the world in which we live.
Pray for the work of the church. which is the body of Christ, the community of faith and pray for the world that God's presence may be made known. Also be diligent in prayer for all those who ask for your prayers. Sometimes, we feel helpless to change a situation, but remember that the greatest gift we can give to anyone is to pray for them and to pray with them. God's peace, Mother Pat+


Share this on your social network: