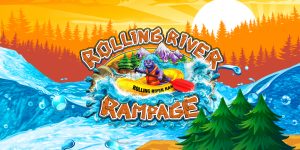 Another great VBS has come to a close.  This year's theme was Rolling River Rampage, and we decorated the church with loaned camping gear, blue plastic, cardboard, and Christmas lights!  We had around 49 adult and youth volunteers and about 67 campers.
Gosh, where to begin with the thanks?  A special thanks to Sally  Ulrey for wrangling the youth and opening and closing VBS each day.  Thank you to all the center leads for devising meaningful activities and coming in each day ready to roll: Oscar De Leon and Amanda Lvermont in Snacks, Karen Whitehead and Persis Bristol in Music, Mother Liz in Story Time, Ciara Morris in Crafts, and Nate Olbon and Josh Hurst in Recreation.  You all are the motor that keeps VBS running.
A huge shout out to Morgan Fletcher and Terri Hurst for helping keep me on track and taking over such tasks as needed, especially getting the dreaded name tags printed correctly!  Thanks to Charmaine Warmington in the office for her patience as we took over the church, the copier, and her attention all week long.
Thanks also to Abby Whatley for making the Special Needs VBS such a huge success. We had three campers who participated in all the activities and had great fun!
Thank you as well to Steve McFarland for getting us set up with a sweet sound system and teaching the youth how to operate it.  And last but certainly not least – a huge and hearty thank you to ALL the adult and youth volunteers!  You helped in centers and shuffled the kids down the halls, rowing invisible boats as you went.  You are the magic makers of VBS, and it's  you who the kids will remember most. Bless you all and thank you for giving your time and talent to the St. Matt's VBS 2018.
~Kira Coats


Share this on your social network: