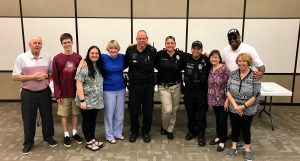 St. Matthew's partnered with Snellville Police Department as part of the One Congregation One Precinct (1C1P) initiative started by Movement Forward. The program is designed to foster better communication and cooperation between law enforcement and local congregations. Part of the program is showing appreciation for the Snellville Police Department, but during Police Appreciation week (May 13-19), we decided we would honor two of our very own parishioners who are police officers! Dennis Doane is an officer with the Gwinnett County Police Department and John Hansen is an officer with Dekalb County Police Department. On Sunday, May 13, Mother Liz presented both of them with a police car box filled with a gift card, candy, St. Michael medal, and donuts!
On the same day Mother Liz blessed the thin blue line prayer blankets made by the Knit, Crochet and Pray ministry to be given to police officers who are injured or are sick.
St. Matthew's showered the Snellville department with love throughout the week with Chick-fil-A biscuits on Tuesday morning, home cooked dinners on Wednesday, Friday and Saturday nights, donations of donuts, chips, candy and police car treat boxes filled with all kinds of goodies! We were even able to donate treat bags to the Lilburn Police department on Wednesday because of your generosity.
While Police Appreciation week may be over you can still make our Snellville Police department feel the St Matthew's love by making a homemade birthday treat for an officer's birthday. If you would like more information about this wonderful outreach ministry, please contact Becky Olbon at beckyolbon@yahoo.com or by calling 770-923-9186. We so appreciate all our police do to keep our communities safe. God's blessing on all who serve this or other communities.


Share this on your social network: