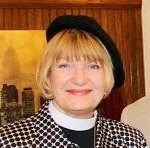 Musing from Mother Liz
If you take a walk towards the pine trees that line Oak Road, you will notice some recent changes.  There is a path through the trees, lined by wood planks.  On a sunny day, one end of the path will be in the sun; the other in shadow.  Depending on your spiritual mood, you can choose to enter in sunshine and finish in shadow, or enter in shadow and move into the light.  Slight breezes cause a murmur in the pines above, and oddly, you don't notice the traffic that passes on Oak Road. Bible verses on plaques that line the path invite you to slow down; to read affirmations of God's love, and faithfulness and never-ending support.  You find that you want to take your time as you walk.   The verses speak words of encouragement and the pace allows you to notice your surroundings.  Benches scattered along the path tempt you to slow down even more; to sit and rest, or maybe just breathe.  You are in sacred space, and somehow, your spirit knows that.  It is a gift, offered in hopes that its use would connect us more deeply to God.
Holy Week is also a path – a path that starts in celebration and moves to darkness; from sunshine to shadow.  Holy Week is a time that asks each of us to walk the path with Jesus, from Palm Sunday, through Good Friday, and on to the promise of Easter.  I invite you this week to walk with us, through the various services we will have: Tuesday's service of Reconciliation and Healing, Wednesday's Healing Eucharist; Maundy Thursday, with washing of hands and feet and stripping of the altar, the Thursday Night Watch, Good Friday services, the Vigil of Easter on Saturday, and Easter services on Sunday.  I also encourage you to take time to walk this Meditation Path, and allow it to give quiet space for reflection and prayer.
The Meditation Path is a creation of Josh Hurst, done as part of the requirements for becoming an Eagle Scout, the highest achievement or rank attainable in the Boy Scouting program in America.  I read that only 4% of boy scouts are granted this rank, and the process is a long one.  I am thankful that Josh thought of St. Matthew's when he defined his project.  He has given us a profound space in which to reconnect with God, not only during this most holy week, but for always.  Thank you, Josh Hurst.
In Peace, Mother Liz+


Share this on your social network: