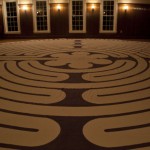 Saturday, March 14, from 9:00 a.m.-2:30 p.m.
The theme of the Quiet Day is "Going Deeper into God."  During our time together, several techniques for connecting to God will be presented, including walking the labyrinth, using rosary beads, and meditation.  During and after the presentation, there will be time for practicing the techniques.  In the afternoon, a session on spiritual yoga will be offered for those interested.
Each attendee is asked to bring a bag lunch;
water will be provided.
To sign up, click here.


Share this on your social network: