St. Matthew's offers opportunities for learning and spiritual growth for children and youth in all age groups. While learning in small and large group communities is most important, connecting those communities to the larger parish is also vital to the health of our congregation. There are times during the year that all group classes will do educational activities together, specifically during seasonal programs, such as Advent and Lent.
YOUTH Offerings:
Our Youth curriculum focuses on equipping and training our young people for adulthood and ministry. Each class is one step in what will become a lifelong journey.
PRE K-5th Grade — Sunday mornings, 9:30 a.m.
We have classes for ages 2 through 5th grade using the Spark curriculum (Augsburg Press).
Middle and High School — Sunday mornings, 9:30 a.m.
We have classes for 6th through 12th grades which provide learning and fellowship in a warm and friendly environment, using the Community of Christ curriculum.
ADULT Offerings
The goal of the St. Matthew's Adult Christian Education Ministry is to provide opportunities for personal growth that will meet spiritual needs and provide choices, such as special learning communities and small groups which foster fellowship and unity.
Adult Bible Study — Sunday mornings, 9:30 a.m.
We organize by book, and study one chapter each week, reflecting with open-ended questions.
Cafè Theology — Every other Saturday morning, 10:00 – 11:30 a.m.
Book study or a special study chosen by the group.
Centering Prayer — Tuesdays at 6:00 p.m. (via Zoom)
A period of centering prayer, followed by a book study and conversation about contemplation and the practice of centering prayer.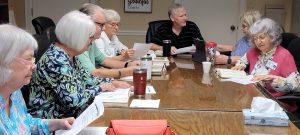 Share this on your social network: