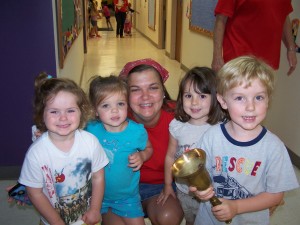 (Age 6 Months to 4 Years)
Nursery care for infants and toddlers aged 6 months through four years is offered during Sunday School and the 10:30 service (9:15 till before Communion). A lead worker, who has a current background check on file, manages the nursery each week with volunteer assistance from middle and high school youth and adults. The nursery is conveniently located in rooms adjacent to the church in our Christian Education building. There is a paging system in place for emergencies.
Upon returning to the service for Holy Communion, know that worshiping together is central to our common life here. Please join the service with the confidence that children and their natural exuberance are not only allowed, but welcomed!


Share this on your social network: