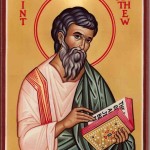 Matthew was a Jew who worked for the occupying Roman forces, collecting taxes from other Jews. These tax collectors, or publicans, often overcharged what was due and kept the overage for themselves. For this reason, they were generally hated as traitors by their fellow Jews. The Pharisees lumped them with "sinners" (see Matthew 9:11-13). So it was shocking to them to hear Jesus call such a man to be one of his intimate followers.
Jesus' association with Matthew caused much consternation among the Jews. The Gospel tells us that Jesus dined at Matthew's home, and that "many" tax collectors and "those known as sinners" were there. The Pharisees were shocked. What business did the supposedly great teacher have associating with such immoral people? Jesus' answer was, "Those who are well do not need a physician, but the sick do. Go and learn the meaning of the words, 'I desire mercy, not sacrifice.' I did not come to call the righteous but sinners" (Matthew 9:12b-13).
Matthew followed Christ as a disciple and Apostle, accompanying Him up to the time of His Passion and, in Galilee, was one of the witnesses of His Resurrection. He was also among the Apostles who were present at the Ascension, and afterward withdrew to an upper chamber in Jerusalem, praying in union with Mary, the Mother of Jesus, and with his brethren (Acts, i, 10 and 14). The disciples remained in and about Jerusalem and proclaimed that Jesus was the promised Messiah.

Later sources such as Irenaeus and Clement of Alexandria claim that Matthew preached the Gospel to the Jewish community in Judea before going to other countries. Ancient writers are not agreed as to what these other countries are, nor is there reliable information about how and where Matthew died.


Share this on your social network: