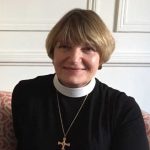 As found in my article last week, Bishop Wright is allowing worship on campus beginning with the first Sunday in July, but with policies and procedures in place to create a safe worship service for those who attend. Putting a system in place to meet these requirements means that we will not have in-sanctuary worship until sometime in August or September. However, we WILL be continuing services online and that will be true even after we open.
When we do open the sanctuary for worship, the service will look very different from what it was in January and February. Let me share some of the significant details:
1. We can only have a maximum of 50 people in the sanctuary at one time, including those leading worship, the ushers, greeters, lectors, etc.
2. To comply with the limited attendance, you will need to sign up to attend a service, either on-line or by calling the office (for those who are uncomfortable trying to make reservations on-line), and will either be assigned seating or allowed a selection of seats. We are required to keep every other row empty and to seat singles, couples or family groups at least six feet apart. And we are required to wear masks during the service.
3. It will be very important that you sit in your assigned seat for contact-tracing purposes, should that become necessary.
4. So once we get here, what will the service look like?
a. Entering the church will look a lot like entering many retail stores during this time, with one-way markings to come in and go out. Ushers will help us maintain social distance in the courtyard and narthex until we are able to enter and be seated.
b. To avoid cross-contamination we will not be able to use prayer books, hymnals or service bulletins, so we are exploring the temporary use of video screens, or perhaps providing instructions on downloading the service bulletin to your phone or tablet.
 c. At this time, the bishop is not allowing Holy Communion, so worship will either be Morning Prayer or Ante-Communion, such as we are doing on-line right now.
d. Due to the risks of spreading the virus by singing, we will not be able to sing the hymns for a while. We will still have Kyle at the organ, and beautiful music WILL occur on Sunday.
e. Passing of the Peace will be from where you are seated.
I would imagine by this time you might be wondering, "what's left?"
1. We will be able to see and greet each other.
2. We will be able to see the sunlight coming through the St. Matthew's window and the colors reflected on the altar.
3. We will have time to sit quietly and breathe in the Spirit that we feel when we are in the sanctuary.
4. We will have beautiful music to lift our spirits and our hearts.
5. We will be able to see our beautiful gardens, blooming in all of God's glory.
Thank you for your continued prayers for St. Matthew's as we strive to move forward during this pandemic. Please continue to pray for those working to "open" the church building and plan services that are both meaningful and safe for the those attending.
Beloved, I know that the times we are in are challenging. There will be a time when this has passed and we will be able to come together in full community again. Until then, we will use the technology available to keep us connected, remembering that the church has not closed because the church is US. And we WILL continue to be church!
God's Peace,
Mother Liz+


Share this on your social network: