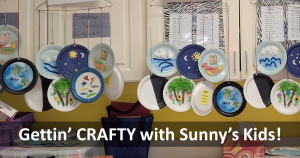 Using crafts in Sunday school can be an effective way to teach Bible stories to young parishioners for several reasons:
ENGAGING! When kids create, they are more likely to pay attention and remember the lesson.
INSPIRES CREATIVITY! Children express their creativity while learning about Bible stories. They can personalize their crafts, which can make the lesson more meaningful to them.
STARTS the CONVERSATION! Teachers can facilitate discussions while crafting, encouraging children to ask questions and share their thoughts. This promotes a deeper understanding of the lesson.
INCLUSIVE! Crafts accommodate different learning styles and abilities, providing an inclusive teaching method for all children, including those with special needs.
FUN for ALL! Children often associate crafts with fun and enjoyment. When Sunday school is enjoyable, children are more likely to want to attend and continue learning about the Bible.
Are you INTERESTED in BECOMING A SUNDAY SCHOOL TEACHER?
Being a Sunday school teacher is a critical ministry within a church community. It is a ministry of love and dedication. It can be incredibly rewarding to witness the spiritual growth of young parishioners and to be part of their faith journey. Sunday school teachers play a significant role in shaping the faith and values of the next generation.
At St. Matt's, being a Sunday School teacher is not a full-time commitment! Rotating schedules and having the option to serve as a helper allows for a diverse group of volunteers with varying levels of experience and availability to contribute.
A Note about Planning: Not having to plan lessons can be a relief for some volunteers who may feel more comfortable assisting with established curriculum. However, those who are interested in creating lesson plans should also be encouraged to do so, as it can be a fulfilling aspect of teaching.
Interested in becoming a Helper? Please contact Mona Livermont or Cheryl Wheeler


Share this on your social network: