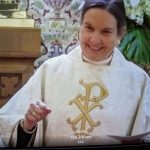 The Church has long used incense for special celebrations much as it was used in the Jewish tradition of Jesus' time. Scripture refers to incense as a sign of the presence of the holy and the smoke goes up like our prayers ascending to God. Incense will only be used at the 11:00 pm service on Christmas Eve. If you have allergies to incense, then please join us for the 5 pm Christmas Eve service.
In the Revelation to John, chapter 8:1-4 we read "the smoke of the incense rose with the prayers of the saints." In the Old Testament we find numerous references to the use of incense as a part of worship. Incense has long been associated with prayer and with special times of celebration. The magi brought fragrant frankincense as one of the gifts for the infant Jesus.
The use of sight, sound and smell in worship have long been used to connect us to each other and to God. We offer our bodies in prayer and thanksgiving – kneeling, bowing, walking, standing, sitting and other postures of praise and prayer. We see and taste the elements of consecrated bread and wine allowing God to fill us. We lift our voices in prayer, praise and song offering our gifts to God; and when we use incense it involves our sense of smell and sight allowing us to experience visually our prayers ascending to the heavens and we smell the fragrance of frankincense reminding us of God's gift to us in the person of Jesus.
Merry Christmas, Mother Pat+


Share this on your social network: