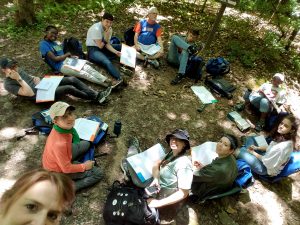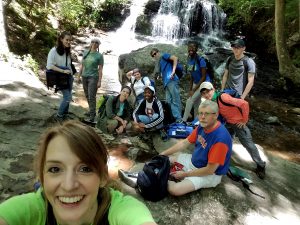 Many thanks to our congregation who gave our youth the gift of time and space to explore their relationships with God.  We spent the better part of a week hiking in the woods, contemplating the beauty of God in creation, and learning about our faith in depth in preparation for one of the biggest decisions of life: Confirmation!
Here's what the Pilgrims had to say about what your gift meant to them:
"I left for the Pilgrimage excited for what was to occur. Within the next five days, my eyes, mind, and heart were opened to a whole new understanding of who God is and how God has shaped the world. I also grew closer to my friends who have now become family. Leaving the Pilgrimage, I now have a firmer faith in God. While I still have some questions, but I feel I know how to seek out and find the answers." ~Andrew Byron
"For the past two years, I've been so excited for the Pilgrimage. I'm so happy that I went, and I got to enjoy this experience. This will probably be the highlight of my summer. There were funny moments and serious moments. Moments for laughter, and moments for lessons. I have memories now that I will never forget. I recommend the Pilgrimage for everyone. I am so incredibly happy I went on it; I can't say it enough. I was excited for confirmation before, but now I'm even more excited for it, and I can't wait to begin Confirmation Classes and become confirmed." ~Liz Colinger
"I am so grateful to have been able to go on this Pilgrimage. Before the trip, I knew some aspects of Christianity and its beliefs, but this trip took it to a new level. I feel as though my eyes have been opened to new possibilities with Christianity. I feel as though my faith has a firmer foundation. This trip gave me time to process new information about Christ and gave me time to ask questions. I've learned about the Trinity, Jesus, and evangelism. I've also learned that Jesus' death gave me and everyone else freedom from ourselves and from the world. I'm so glad I had the chance to go on the Pilgrimage, and this trip has given me relief and a sense of firmness with my faith." ~Nailah Desamu-Thorpe
"This week with nothing but God, nature, and (now) family has colored the picture of Christ I had before, giving it depth and me a clearer understanding of what it means to be a Christian. I aim to let the Christlight and hope shine so bright that my faith is displayed with pride and is a beacon for those that seek the Lord." ~Jessie Hurst
"To be able to go on this trip was incredibly changing. Before I had so many questions and worries. I still have questions, but so many have been answered, and those answers have given me more to think about. My worries were soothed with overwhelming love. My faith has definitely grown. I am ready to learn more and become more involved with my faith. Thank you to everyone who supported us pilgrims on this step in our journey. It means the world to us pilgrims who just want to grow closer to God and those who love us." ~Katie Jones
"This trip really taught me what it meant to be a Christian. It made me begin to understand the importance of community in the body of Christ and what the Trinity is. I now know of the grace that is provided to children of Christ. I hope this trip really helps me become a part of the Christian community. Furthermore, many of the questions I had were answered, and that was extremely helpful and enlightening. This week has given me so many opportunities." ~CJ Jordan
"I am so blessed that the fellow pilgrims and I are able to explore and gain knowledge about our faith. Before I went on this trip I was conflicted about my faith. Daily life at school and in the world would sway my opinion and try to convince me to believe something else. But after the pilgrimage retreat I feel like my faith has grown and strengthened. Because of the Pilgrimage, I am assured in my faith and I am forever blessed and thankful to grow up in a community so thoughtful and loving." ~Nadine Kumbu-Smart
"The world is definitely a strange, insane, scary, and wonder-filled place. Whether we like it or not it's going to hurt, but it will also feel amazing. Before the Pilgrimage, life was just "life," nothing much to it. Life is hard, and I just dealt with it. But after, the world kind of changed. People began to understand me and my thoughts. An opening to God, I guess I would call it. During the Pilgrimage, I got to know friends better, know how they think, what they feel, etc. But most importantly, I learned more about what being a Christian is. How God loves everyone no matter their actions, thoughts, ideas, beliefs, reasonings, issues, or even the things we like to call 'flaws'. That…that means the universe to me." ~Stephen Prichard
Sally and the Pilgrims would also especially like to thank the other chaperones, Mara DiGiovanni, Ed Witek, and Shelley Witek, who sacrificed so much, including their time, to make this trip possible!


Share this on your social network: