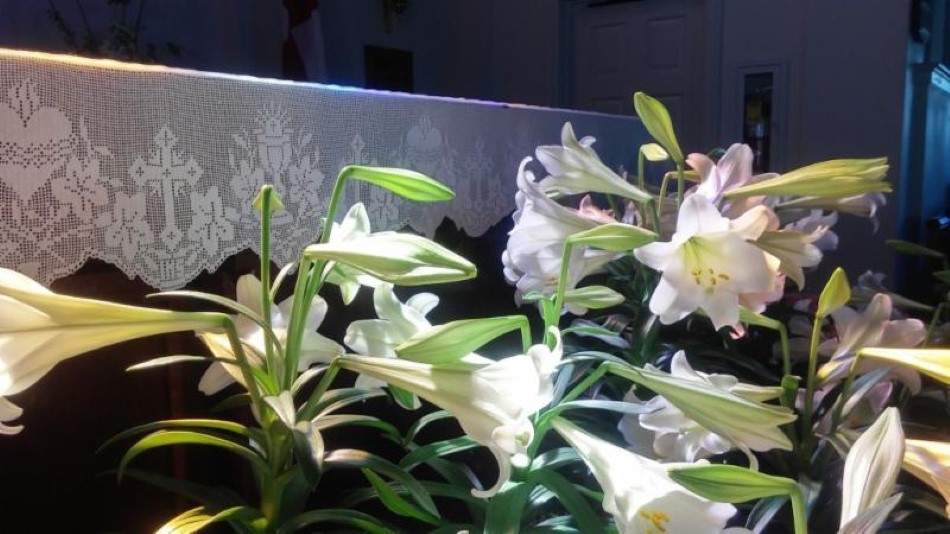 Have you ever wondered about the beautiful flowers on the altar? Did you know that there is a small group that arranges them each week? At one time in St. Matthew's history the flowers were purchased from local florists in Snellville and the altar guild would place them on the altar. The guild was formed by Ildy Mezey in 2015 and continues now under Janis Williams and Beth DiGiovanni. The guild purchases some flowers, in addition to using greenery & flowers right from the St. Matthew's campus.
There are times in the liturgical season that dictate the color of the flowers – Red for Pentecost, White for Easter, funerals, Bishop visit, Bare Branches for Lent, Greenery for Advent. Then there are the other times where the Flower Guild members have an open pallet for colors!
We are looking for members for the guild. You do not have to be a floral expert! We have a group of members now who are shadowing members a week a month. If you are interested in finding out more about the Flower Guild please contact
Janis Williams
or
Beth DiGiovanni
.
Flowers for the altar are supported by donations from the St. Matthew's members. Since we are now fully open and in person after the pandemic closure in 2021, we currently have many weeks open on the Sunday Flower chart outside the church office. If you have a special week to celebrate a birthday, anniversary, memory of a family member, or just a Thanksgiving, please consider adding their name (and yours) to our flower chart or contact the office to help. The suggested amount of the donation is $65, but any contribution you are able to make is appreciated.


Share this on your social network: