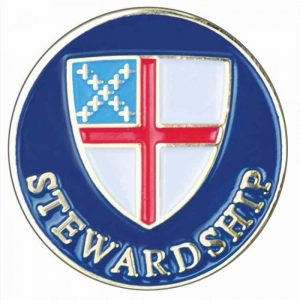 Good morning, everyone. I want to talk about stewardship. A lot of people know who I am. My name is Jay Jones, and my family and I have been members of St. Matthew's for ten years. When we started coming here, we sought a church home, a place to belong and contribute. You probably know my wife, Amy. She contributes her talents to the choir. She's a musician, and she does very well.
I could've joined the choir, but I cannot sing. I can't carry a tune. And this fact has been put upon me by my family many times. Like I could say that, you know, my singing is so bad. How bad is it? Okay, my singing is so bad. Autotune gave up on me.
I wanted to talk to you about how we approached stewardship. In 2015, Lynn Kiker approached me about taking over the acolyte ministry. She had been doing it for 20 years and had that ministry running like a machine. It was well run, but it was becoming physically challenging for her to keep doing it, so she was looking for someone to take it over. I was reluctant to do this because I'd never done anything like that. I also wondered if I could do it. I had reservations about sticking with one thing for 20 years. But I prayed, talked with Amy about it, and agreed.
It wasn't easy at first. I was flailing around trying to learn what to do, but I had a lot of support. I had the families, the parents there who helped, and those acolytes who knew what to do. So, what I came out of that experience was that I learned a lot about acting, but I also learned a lot about myself.
We can all agree that personal growth is good, but to make that happen, you must be willing participants. You have got to make that leap of faith.
It was a scary time, but I eventually got used to it. And after three years, I said, okay, that's enough. I've learned that I have other skills and talents to give. Today, I'm on the vestry board. I'm the youth liaison for the vestry. I'm also on the audio-visual team that's live streams, worship, and other events. With this spirit, we also encourage our children, Katie and Ellie, to contribute. Katie is in college now, but when she was here, she was an acolyte, and she was with the youth group ministry. Ellie was also an acolyte, and she's now in the youth ministry, too.
And I'm very proud of my girls. We watch them grow up here and come into their own, and they value friendship and always want to help. Amy and I worked to teach them these values, but being here at St. Matthew's played a significant role. I've seen other children come through the doors here and watched them grow up. It's been a gift to me to watch kids come in here crawling around, making noise and growing up and graduating high school and going to college, and some of them getting married and starting a family on their own.
As I said, it is a gift and a blessing, but like all good things, it takes work. We have created a community here at St. Matthew's not just for the single purpose of worship, and worship is essential, but we also are here to fellowship with one another. As I was preparing for this talk, I searched the Bible to find a verse. One that stood out to me was I John 1: 6-7. It says, "If we claim to have fellowship with him and yet walk in the darkness, we lie and do not live out the truth. But if we walk in the light as he is in the light, we have fellowship with one another, and the blood of Jesus, his son, purifies us from all sin.
That means that as a community, we have to work to make our community represent the teachings of Jesus. We can't stand on the sidelines to watch. Thankfully, there are many roles here at St. Matthew's for contributing time, treasure, and talent. The first is treasure, to pledge financial support to the church. The second is to give your time, and the third is to give your talent. To volunteer, to help out, to be there.
The return on stewardship is not a very finite thing. But I have come to think of it as making a positive impression, especially for our young people, that helps them navigate life as they grow up. You can't quantify it. But you can see it when you talk to someone who grew up here at St. Matthew's, and you pick up that spark. You can see it.
That is because of who we are. In stewardship, we support the community, which means we support each other. I recall an old newspaper saying that I think applies to what I'm talking about stewardship, especially with young people: "It's not the splash that you make but the ripples that count." Being here at St. Matthew's and bringing up our children has benefited us. But you have to get involved, and you have to make it happen. Through your gifts of time, treasure, and talent, we are living Jesus's teachings and making a difference. Thank you.
Jay Jones


Share this on your social network: