Updated: 6.24.21
Backpack & School Supply Drive
For kids in need in South Gwinnett. Drop off in the donation bin at church between today and Sunday, July 18th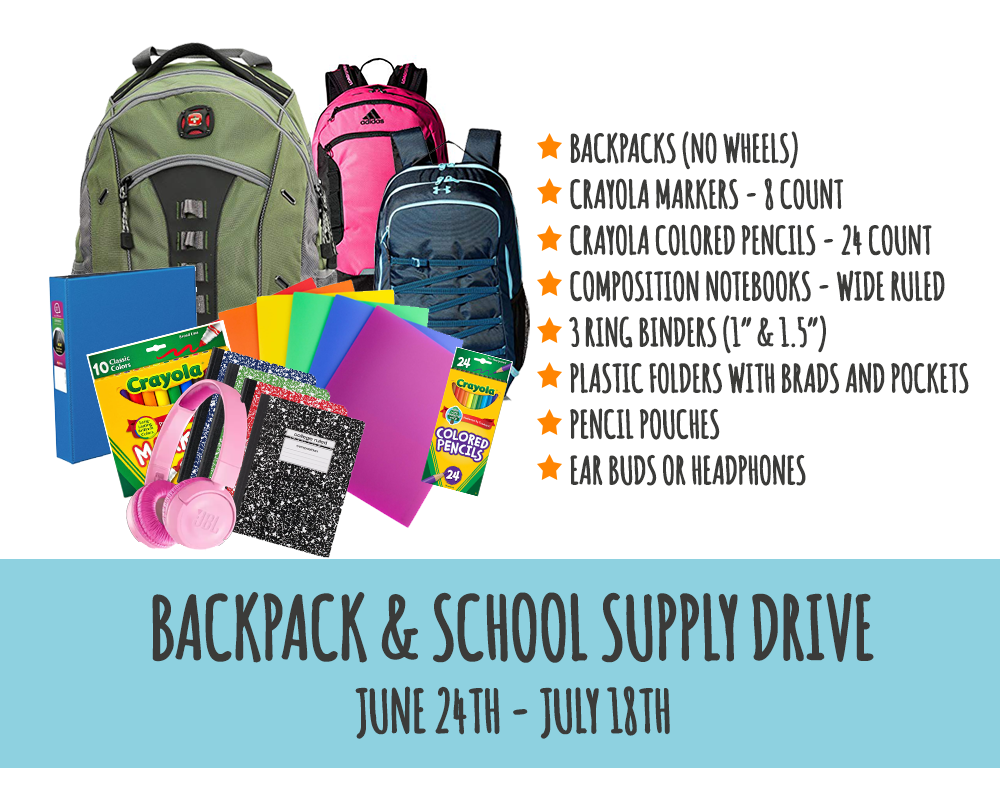 Summer of Service
Join the Outreach Committee in supporting our community through the Summer of Service. There are lots of ways to get involved this summer, take a look below.
Knock Out Hunger with Gwinnett's Summer Meals Program
From Volunteer Gwinnett:
2021 Summer Meal Site Volunteer
We need your help! Knock Out Hunger by volunteering with Summer Meals Program. We are looking for volunteers (ages 15 years and older) to assist staff at 25 program locations from 10:00am to 2:00pm, Monday through Friday, starting June 1. Volunteers will be helping organize and distributing Grab & Go Breakfast and Lunch Packs.
Choose a location and day that works for you. You can sign up for multiple days as well!
Gwinnett has a lot of opportunities for community involvement. To browse all of their volunteer opportunities click here.
Supporting Family Promise of Gwinnett through Night Without a Bed
Raise awareness for the on-going issue of family homelessness within Gwinnett County, while raising funds to help us end homelessness one family at a time. Last year we raised over $500 for Family Promise and with your help we can do it again! Join in raising money as part of the team, or donate to the St. Matthew's team before June 26th.

The Co-Op Needs Volunteers!
The National Guard assistance at the co-op has ended and they are in need of more community volunteers to keep operations running smoothly. Learn more about this opportunity here
Focus Items for Summer 2021
Canned Pineapple
Canned Chicken
Rice – 1 lb. Bags
Dish Detergent
Co-Op Monday Night Dinner – August 30th
Volunteers are needed to serve dinner at the Southeast Gwinnett Co-Op on Monday, August 30th. Keep an eye on Outreach news for a sign up link in August.
---
*For specific drop off or Amazon delivery details for the list below, please visit the websites listed or call the organizations directly.*
Drop off hours W/F 11am-1pm
Monetary Donations can be made at: https://www.mending-the-gap.org/
Canned meats
Soups
Canned chile
Peanut butter
Crackers
cup m'cheese
fruit cups
tea bags
Water
toilet paper
paper towels,
wipes/sanitizers
facial tissue
Drop off donations are currently being encouraged at the following locations:
Grace New Hope Church
Grayson United Methodist Church
12 Stone Church Snellville Campus
Snellville First Baptist Church
Grayson City Hall
Snellville City Hall
Item requested
Contact: Tina Camden – 404-660-4874 – tinac@standupforkids.org
Canned chicken
Canned tuna
Slim Jim's
pop top raviolis and soups
Non perish milk products


Share this on your social network: