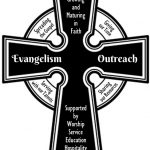 Rooted in Christ and carrying the cross of cross we are to Proclaim the good news.
In case you have not taken a good look at the prayer card that you got in the mail with your ministry commitment form. I invite you to take a deeper look. Rooted in Christ – what does that really mean to you?
The cross reminds us of Christ's saving act, but it also reminds us that in our humanity we are capable of great sin. But Jesus doesn't leave us in that sinful place – he offers grace and forgiveness. Jesus came among us in order to show us how to live and he came to share God's forgiveness and grace with us. The Church is Christ's body – that means that we are to live in such a way that people meet Jesus when they meet us. That is how we live out our third baptismal promise which is to PROCLAIM by word and example the good news.
That is what we are supposed to be about. We are to be that compassionate and caring place, the church, where Christ is proclaimed, lives are transformed and people's needs are met through word, sacrament, service and community.
We, as the committed disciples of Christ at St. Matthew's, are to be that place which centers and grounds all who come to us. We are the place where people do not have to be ashamed of their sins but rather find and experience God's abundant love and forgiveness in our midst
In our third baptismal promise, God asks "Will you Proclaim by word and example the good news?" "Will you", Jesus asks us again and again everyday. Will you be my eyes and ears to see and hear the needs of the world? Will you take action by your words and deeds to bring the love of God to those who have not yet found their way?
Will you, Jesus asks us. And we prayerfully and faithfully say, "I will with God's help".
I invite you to continue your prayerful discernment about how you are called to live into your discipleship. Rooted in Christ, supported by worship, education, community & service we grow in our spiritual maturity and in our faith. As we fix our focus on the cross gazing toward God, we see the outstretched arms of Christ which form the crossbeams of the cross – we are invited and challenged to reach out in evangelism and social outreach. As we journey with Christ we find ourselves more and more opening our arms in a wide embrace proclaiming by word and deed the good news of God's love for all creation. Blessings, Mother Pat+


Share this on your social network: